Automotive battery market revving up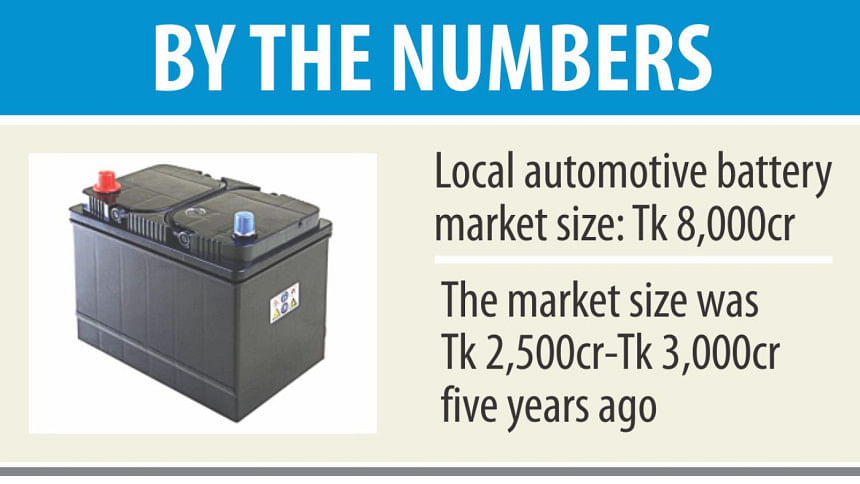 The automotive battery market size hit Tk 8,000 crore last year on the back of runaway popularity of easy bikes and battery-run rickshaws.
Five years ago, the market size was about Tk 2,500-3,000 crore, according to industry players.
The demand just took off in the last five years with the popularity of easy bikes and battery-run rickshaws, said Faraaz Rahim, head of international marketing at Rahimafrooz Globatt, the market leader in automotive battery. In the last two years, the market expanded 100 percent, he said.
As much as 70 percent of the batteries propelling the easy bikes and battery-run rickshaws are manufactured in China.
"Their battery life is at best six to eight months," said Rawshan Murad, deputy general manager of Hamko Battery.
Other than the easy bikes and battery-run rickshaws, the growing popularity of hybrid cars, which is dependent on battery for power, is also driving the market, he said.
In the face of growing demand for hybrid cars, which offer better fuel economy than the conventional ones, the government has allowed the import of second-hand hybrid cars from this fiscal year and slashed the supplementary duty.
"The import of hybrid cars has surged since the beginning of the fiscal year," said Habib Ullah Dawn, president of the Bangladesh Reconditioned Vehicles Importers and Dealers Association (Barvida).
To encourage use of hybrid and electric cars, Barvida sought further slashes in supplementary duty from the new fiscal year.
Rahim is optimistic that the market for hybrid and electric cars will expand exponentially in the next five years and with it the market for automotive battery.
"Bangladesh is one of the fastest growing automobile markets in Asia," said Syed Samiul Huq, director of Japan SolarTech (Bangladesh), which locally manufactures Japan's leading automotive battery brand Yuasa.
Yuasa entered Bangladesh in 2016, tempted by the astronomical popularity of Japanese car brands, particularly Toyota.
The Yuasa batteries are tested, certified and recommended by Japanese car makers Toyota, Honda, Nissan, Mazda and Mitsubishi, Huq said.