Apparel exporters gear up to make sportswear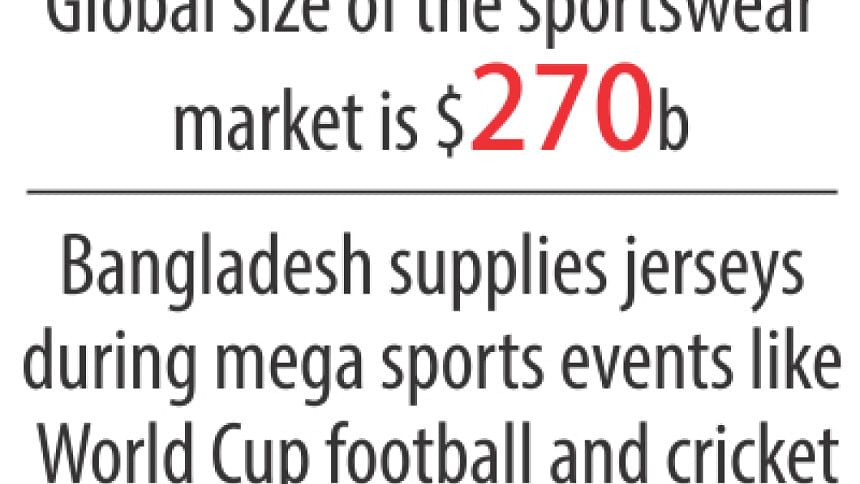 Local garment makers are gearing up with fresh investment to enter the global sportswear markets, as demand for the items is on the rise with changes in taste and fashion.
Although Bangladesh is the second largest garment exporter worldwide after China, it has little presence in the global sportswear market worth $270 billion. China and Vietnam are currently dominating the market.
Bangladesh exports a few million jerseys during different occasions, although the country has greater potential in the sportswear segment, for both fashion and sports functional wear.
"We are setting up a big factory in Gazipur on 50 bighas of land to produce specialised garment items, including sportswear, wind jackets, denim items and swimwear," said Abdus Salam Murshedy, managing director of Envoy Group, a leading garment exporter.
The group is investing Tk 500 crore in the proposed plant, Murshedy added.
KM Rezaul Hasanat, chairman of Viyellatex Group, said sportswear has two segments – fashion and functional. The fashion segment includes garments that are used like any other apparel item, while the functional items are used for performance during sports.
Local manufacturers export fashion sportswear items on a limited scale, but they are yet to explore functional wear, said Hasanat who also ships sportswear to a European buyer.
Asif Zahir, director of Ananta Apparels, said they have plans to set up a separate factory to produce sportswear in future, as demand for Bangladeshi goods is rising worldwide.
Momin Mondol, managing director of Mondol Group, another leading garment exporter, said they shipped a few million pieces of jerseys during the last football world cup in Brazil in 2014. Bakhtiar Uddin Ahmed, general manager at Fakir Apparels Ltd, a Narayanganj-based garment maker, said his company produces sports t-shirts and trousers on a limited scale.
Mohammad Hatem, former vice-president of Bangladesh Knitwear Manufacturers and Exporters Association, said he supplied eight lakh pieces of jerseys to 10 football playing nations, including Brazil, Germany, France, Portugal and Argentina, during the last football world cup.
Hatem sold the jerseys between $2 and $2.50 a piece.
Hatem said many factories in Bangladesh supply jerseys to different football clubs in Europe, like Barcelona, Real Madrid, Manchester United and FC Bayern Munich.
Some factories inside the export processing zones export high-end functional sportswear items to renowned retailers and brands like Adidas and Puma.