ADP spending hits record high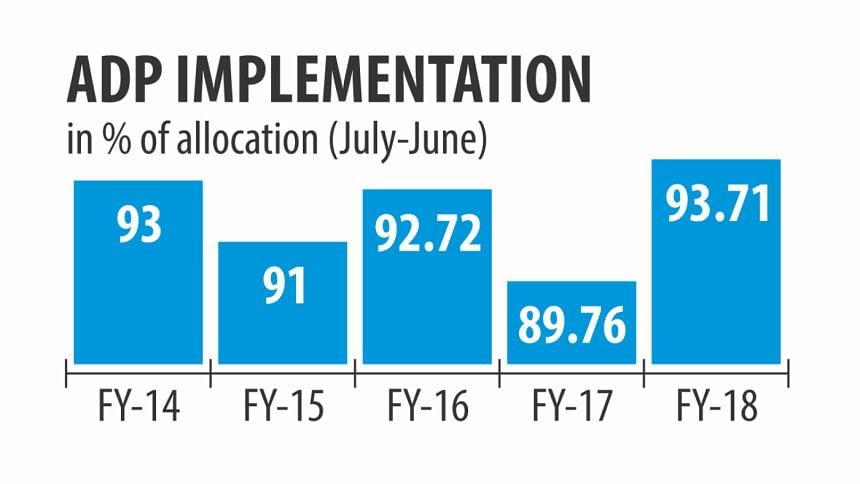 Spending on development projects hit 93.09 percent of allocation in the just concluded fiscal year, the highest in the country's history, riding on a massive escalation in expenditure in the last month of fiscal 2017-18.
Ministries and divisions spent Tk 146,703 crore of the revised annual development programme (ADP) in the last fiscal year, according to Planning Minister AHM Mustafa Kamal, who released the data yesterday.
"The ADP implementation was record high in the last fiscal year," he told reporters.
ADP implementation rate stood at 89.76 percent in 2016-17 when the government spent Tk 107,085 crore.
Historically, the ADP spending rate remains low in the beginning of a fiscal year and gets momentum in the second half of the year.
Last week, Kamal explained that the physical work of a project goes on although cheques are given to contractors in June, pushing up the spending in the whole fiscal year. In July-May of 2017-18, the ministries and divisions together spent Tk 98,978 crore against the full-year's revised allocation of Tk 157,594 crore, according to the Implemen-tation Monitoring and Evaluation Division (IMED).
This meant they used Tk 48,725 crore in June alone against their monthly average expenditure of Tk 8,998 crore in the preceding 11 months.
Finance ministry officials said the ADP implementation rate of the IMED does not match that of the Office of the Comptroller and Auditor General (CAG) and CAG data always shows lower implementation rate.
For example, the government spent Tk 100,840 crore for development projects in 2016-17 as per the IMED data that excluded the spending by state-owned enterprises, whereas CAG data showed Tk 77,264 crore was expended.
In the last fiscal year, the use of the government's own fund was Tk 87,973 crore, accounting for 91.32 percent of the allocation. It was 92.85 percent, or Tk 72,145 crore, in the previous fiscal year.
On the other hand, 100.30 percent, or Tk 52,206 crore, of the allocation from foreign funds was spent, up from 78.97 percent a year earlier.
An official of the Economic Relations Division said the ministries and divisions are well ahead in using foreign aid and $6 billion may finally be disbursed in 2017-18, up from $3.39 billion in 2016-17.
Development spending by the state-owned enterprises was Tk 6,523 crore, which was 70.80 percent of the funds they received for 2017-18. The expenditure rate was 115.02 percent in the previous fiscal year.
For 2017-18, the government had originally set aside Tk 1.64 lakh crore for development spending, but it was revised down to Tk 1.58 lakh crore in March. Kamal said the ADP spending rate will also be good in the new fiscal year if the current implementation trend continues.