60 metres of metro rail to be visible this month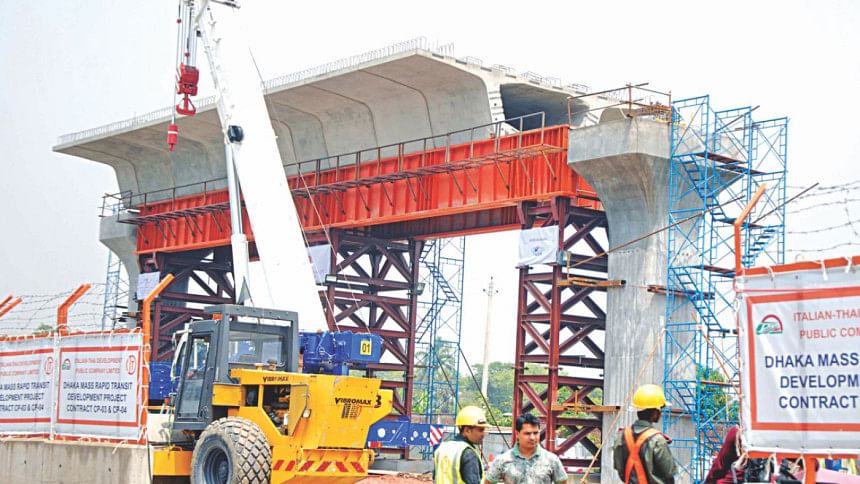 A partial structure of the highly anticipated metro rail system for Dhaka city is set to become visible this month with the erection of two viaducts at Dia Bari in Uttara, the starting point for the system.
Viaduct is a series of spans or arches used to carry a road or railroad over a wide valley or over other roads or railroads.
With the installment of the two viaducts, 60 metres of the 20.1-kilometre-long metro rail will become visible. The metro rail's end point would be Motijheel. "All the works are going on in full swing," said MAN Siddique, managing director of Dhaka Mass Transit Company.
The Tk 21,985-crore project is scheduled to be complete by 2024 and the first phase by 2022. "We are on track to completing the project as per schedule."
But the prime minister has asked for an earlier completion of the project, he said.
The project has been delayed by at least six months because of the terrorist attack in Gulshan in July 2016 that claimed the lives of seven Japanese nationals involved with the project.
Now, to accelerate the completion of the project, work is going on round-the-clock in three shifts, according to Siddique. "By June, more viaducts will be installed."
Of the total project cost, Japan International Cooperation Agency or Jica is providing Tk 16,594.59 crore and the government the rest.
The government has allocated Tk 3,425.83 crore for the project this fiscal year, which is about 64 percent of the amount it was supposed to foot.
In May last year, the government awarded job of constructing the viaducts and elevated stations of the project to the Italian-Thai Development Public Company Limited. Once the metro rail is in operation, it is expected to carry 60,000 passengers from Uttara to Motijheel per hour, going some way towards alleviating the extreme traffic congestion in the capital.
On June 24, 2016, Prime Minister Sheikh Hasina inaugurated the construction work of the metro rail project, also known as the MRT Line-6.
The 20.1km MRT Line-6 will run from Uttara Third Phase and pass through Pallabi, Mirpur, Farmgate, Pan Pacific Sonargaon, Dhaka University, Doel Chattar, Topkhana Road and the Bangladesh Bank.
The first phase, which will be from Uttara to Agargaon, will be complete by December 2019, said Khan Md Mizanul Islam, legal affairs and PR manager of Dhaka Mass Transit Company.
The second phase, which will be from Agargaon to Motijheel, will be complete by December 2020, he said. The service will start with six trains and once the second phase is completed 24 trains will be sent out. The trains will be from Mitsubishi.