50 campaigns win digital marketing awards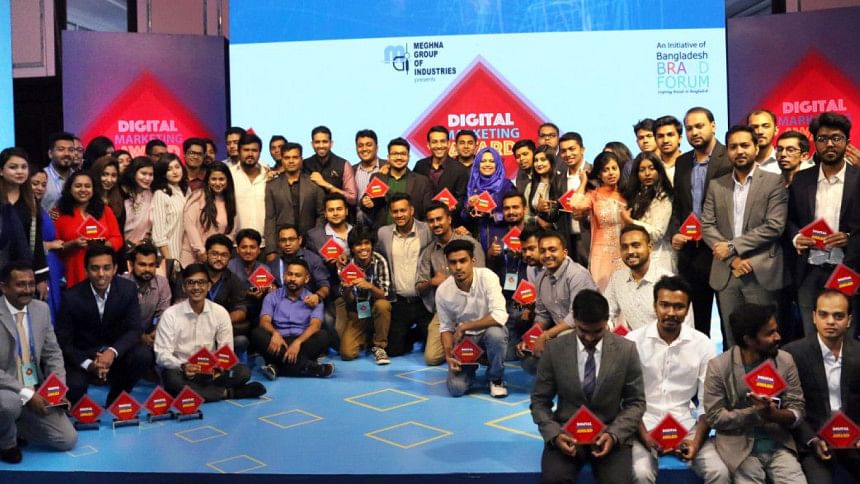 Fifty digital campaigns won the country's first Digital Marketing Award in recognition of their creative marketing and branding communication methods in businesses.
Bangladesh Brand Forum (BBF) honoured the winners in 13 categories for their last year's successful digital campaigns after the fourth Digital Marketing Summit, at Le Méridien Dhaka on Saturday.
At the event, 12 campaigns won the highest award Grand Prix, 22 won Gold and 16 received Silver awards.
The Grand Prix for Best Integrated Digital Campaign was awarded to "Aynabazi the Movie" executed by Melonades.
An initiative of BBF, the summit was presented by Meghna Group and was organised in association with The Daily Star, where experts from home and abroad shared their knowledge, innovative ideas and technology on how to do marketing with the help of digital platforms.
Starting in 2014, the event has been a central platform for marketing enthusiasts, advertising experts and creative professionals where they learn and share the best and latest digital marketing practices. Among the companies, Melonades won four of the highest award—Grand Prix—in the event while Magnito Digital Ltd won nine awards in different categories, one of them being Grand Prix.
A campaign of The Daily Star—The Daily Star-Join the Journey—also won a Silver award in the category of best content marketing. WebAble Digital, a digital agency, has made this campaign and they also won five awards in different categories. The award ceremony was attended by around 500 professionals from business organisations and marketing and creative agencies.
At the event, 15 local industry stakeholders took part in three panel discussions. The topics were: "Building the next digital marketing campaign - The Perfect Recipe", "Are we using mobile advertising effectively?" and "Creating content that delivers result". Two case studies were also presented at the daylong summit.