'Dhaka Sessions' brings music to a bookstore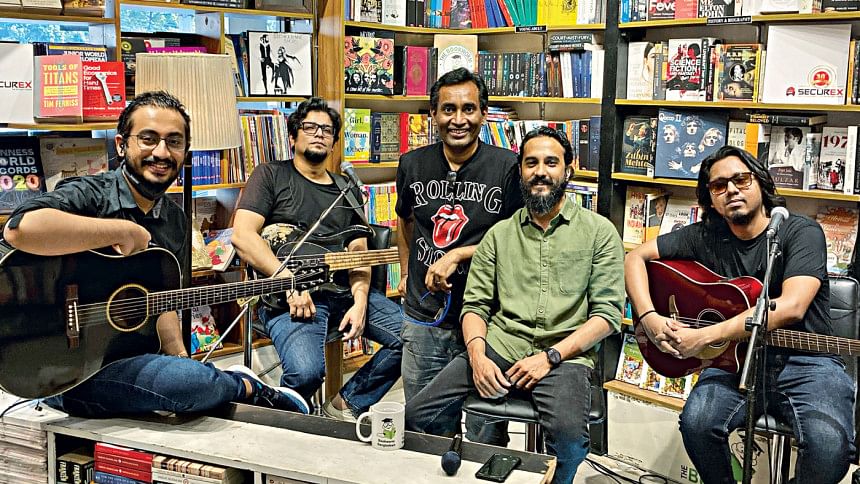 Cramped amidst the rows and rows of books at Bookworm Bangladesh, performers, instruments, and cameras came together to produce music over the past few weeks. On Saturday, November 14, 2020, the first episode of Dhaka Sessions will be aired on YouTube, with the cult favourite band Nemesis as the first performers.
Dhaka Sessions is a promising new project which plans to stream music performed live at Bookworm along with interviews of artists and authors every week, in the same format as NPR's Tiny Desk concert series.
About five years ago, lead singer of cover band Stone Free Chotu Khan came across NPR's Tiny Desk. "I was amazed by the concept. We had to have something like that but of course with our own unique twist," he tells The Daily Star. The idea was to curate a set of musicians who would represent Bangladeshi music—both popular musicians like Nemesis, Sagor Baul, and other less known but talented musicians. All of the music performed would be original—no covers, each episode between 16-22 minutes.
"Musicians, stage hands and technicians have all been hit hard by the pandemic," says Chotu Khan. "Our work involves everyone. I have gotten in touch with street bauls who would come in front of my house and sing with a mondira, and her guru who played the dotara. They have performed as well."
"A bookstore is an interesting space for a project like this because of its unique setting," says Amina Rahman of Bookworm Bangladesh, explaining the choice of location. "Being surrounded by books makes one feel embraced and enriched. The acoustics at a bookstore are also ideal for high quality recording as the books themselves absorb sound and stop it from bouncing, just like a sound proof studio."
Bookworm had to move shelves around and shut down a section of the store, while ensuring everyone was wearing masks and staying sanitised. "A few of the musicians and their entourage were surprised and excited to see such a unique collection of original books available in Dhaka. Each and every artist commented on how unusual and cosy they felt while performing," she shares. "As people watch the performances, they will also see books around them. I hope that Dhaka Sessions will introduce Bookworm to new audiences."
"I don't read but there is always something common between writers and musicians,' adds Chotu Khan. "I was wondering what kind of space I'd use and I happened to visit Bookworm at the time, which had expanded. Bookworm told me the space was all mine to use for the series. Amina understood the value of what was going on. To be able to take over a place like Bookworm for a day was amazing," he says.
The sound will also be recorded separately for the series and then mixed at a studio so viewers can hear as close to the natural sound as possible. "See people are starved for entertainment. So I want to do this weekly so people have something new coming up that they can enjoy," he shares.
Mrittika Anan Rahman is subeditor, SHOUT, and a contributor to Daily Star Books.