Barisal cops pummel medical students
Barisal cops pummel medical students
22 suffer injuries
Indiscriminate and unrestrained baton charge and manhandling by Barisal Metropolitan Police on agitators, mostly females, left at least 22 injured during a demonstration before Barisal Sher-e-Bangla Medical College Hospital around noon yesterday.
Police detained and then released aftert accepting an undertaking 14 demonstrators and claimed three law enforcers, Constable Masum Billah, Traffic Constable Bellal Hossain and Sergeant Kamrul Islam, suffered minor injuries. The 22 were taken to the hospital. 
The law enforcers, with only three or four female personnel, kept on clubbing demonstrators, irrespective of their sex and even those writhing in pain and already down on the ground, said witnesses.
Some 200 students of Institute of Health Technology, under the banner "Bangladesh Diploma Medical Technology and Pharmacy Students Association", had formed a human chain around 11:30am which turned into a rally, blocking the road before the hospital.
It was over their 10-point demand, including formation of a diploma medical education board.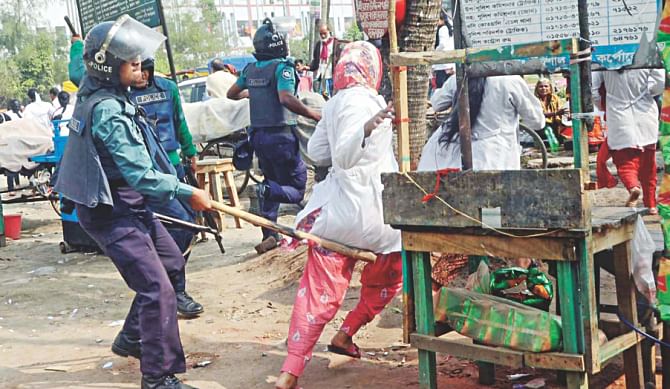 "We were demonstrating peacefully…police suddenly attacked us without any provocation," said the association Convener Md Hossain.
Justifying the police action which he termed "light", Kotwali Police Station Officer-in-Charge Shakhawat Hossain claimed that police at first tried to talk them into freeing the road and end public suffering but were instead pelted with brick chips.