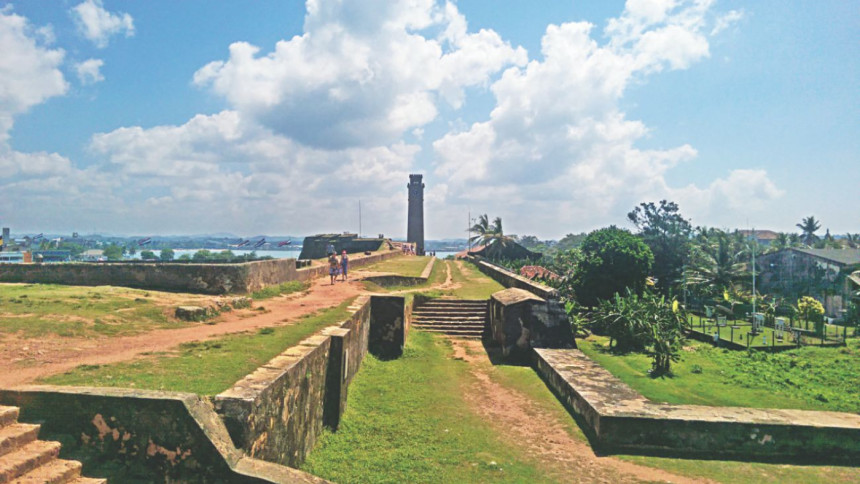 THE TOWN ON THE EDGE
It must be counted as a stroke of good fortune that a tourist's first stop in Sri Lanka is the seaside city of Galle. It is often thought that the cities of the Indian subcontinent are culturally similar, but Galle, the administrative capital of the Southern Province, seems to be occupying an alternate reality and presents a bit of a culture shock to those coming from Bangladesh.
The city is dominated by the Galle Fort, and that is where the alternate reality is at its most vivid.
Nestled inside walls first built by the Portuguese in 1588 and then fortified by the Dutch from 1649 onwards is a town within a city, and to put it simply it is a surreal blend of European architecture with a subcontinental way of life, with each influencing the other. Narrow, cobbled streets weave between houses built closely together in an old-world colonial style. The streets are uncommonly neat for the subcontinent, with primly maintained shop fronts and restaurant seating out on the street.
Walking through the old-world streets among people of multiple ethnicities, it is easy to imagine that you are in a place on the edges of the harsher world. In a sense that is exactly where the Galle fort is -- to its south is the vast expanse of the Indian Ocean, and beyond that, no major landmass in the southward direction for more than 5,000 miles -- and even then it is the near uninhabitable Antarctica.
THE CRICKET GROUND
The Galle International Stadium is one of the most picturesque grounds in the world and can easily give the Adelaide Oval and Newlands Cricket Stadium a run for their money. The view on offer from the press box combines the majestic Galle Fort and to its right, behind square leg or cover, the vista opens to reveal the seemingly unending expanse of the Indian Ocean. Needless to say, it is a hazard for those reporting on the match as even the love of cricket may not draw your eyes away from the ship on the horizon that makes its way from the edge of the Galle Cricket Club stand to your right to the foot of the Fort over the length of a session.
It must have a calming effect on players, as even the restless and mercurial Mohammad Ashraful settled down long enough to score 190 here in 2013.
And, speaking of culture shock, half the ground is visible at ground level from the street in front of Galle Fort -- unthinkable for a stadium in Bangladesh. Lots of people watch international matches for free lined up on the footpath, or for those needing a higher view, from atop the ramparts.