Hosts in seven finals
ISSF Solidarity Archery Championship concludes today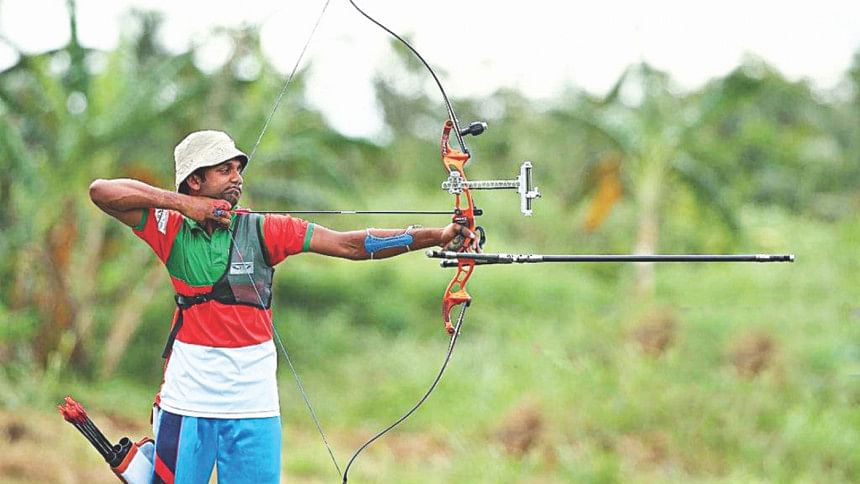 Having confirmed final berth in two events on Saturday, hosts Bangladesh ensured five more final berths in the 1st ISSF International Solidarity Archery Championship at the Maulna Bhasani Hockey Stadium yesterday.
That means the hosts will be represented in seven gold medal rubbers out of nine to be decided on the concluding day of the 14-nation meet today.
Bangladesh had earlier confirmed their final berth in women's individual recurve bow event and women's individual compound event while yesterday saw five more final berths – men's compound team event, men's and women's recurve team events, mixed recurve team event and mixed compound team event.
In men's recurve team event, Bangladesh, comprising Ruman Sana, Sanwar Hossain and Tamimul Islam, beat Saudi Arabia in straight (3-0) sets to set up the final against Bhutan, who posted a straight sets win over Sudan.  Saudi Arabia later beat Sudan to claim the bronze medal.
In women's recurve team event, Bangladesh, comprising Beauty Roy, Shyamoli Roy and Radia Akter, got by to move into the final against Nepal, who beat Azerbaijan in 3-1 sets in the other semifinal.
Bangladesh handed a narrow 216-214 point defeat to Bhutan to set up the men's compound team final against Malaysia, who qualified for the gold medal match by virtue of better shoots despite scoring equal 214 points with Iraq. Iraq won the bronze medal beating Bhutan 217-215.
Bangladesh beat Syria 4-0 in the recurve's mixed team event to set up the final against Bhutan, who beat Iraq 4-0. Iraq later grabbed the bronze medal beating Syria by virtue of better shooting after the game was tied at 4-4 sets.
As there is no third team in compound's mixed team event, the final will be held between Bangladesh and Iraq.