BD rolls out welcome for unusual sport on skates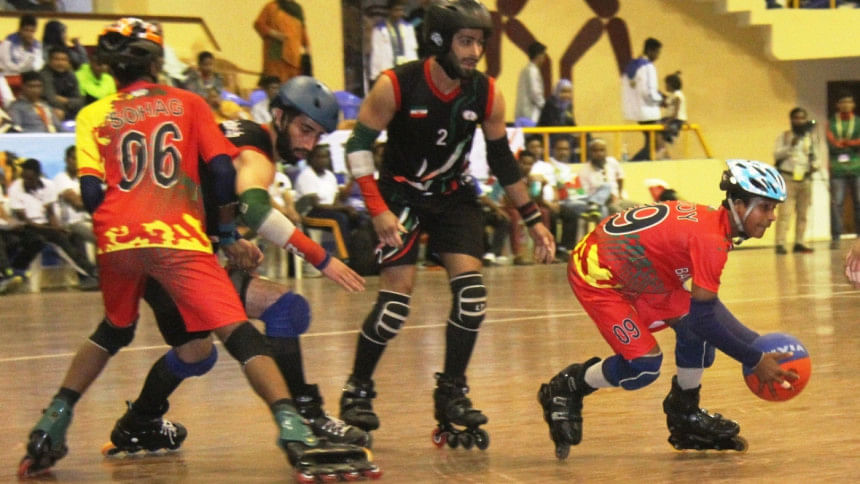 If basketball and soccer had a baby and put it on skates, it might look like roll ball, a little-known sport whose top performers worldwide vied for the championship in Bangladesh over the past week.
Played on a basketball court, with a small soccer-type goal in lieu of a basket, roll ball requires players on roller skates to dribble and pass a basketball-sized ball as they try to score.
Some 750 competitors from 40 countries, including hosts Bangladesh, participated in the meet at three venues in Dhaka, the capital. Most were from Asia or Africa, but Europe, South America and the South Pacific island nation of Fiji were also represented. All participating nations sent men's teams and 27 sent women.
Uganda had initially been expected to host the fourth Roll Ball World Cup, but Bangladesh stepped in after the African nation declined it, said Ahmed Asiful Hasan, general secretary of the Bangladesh Roller Skating Federation.
"This is a little known game in the country. Hosting such a big tournament gives us an opportunity to make it known," he said. "The amount of support we got from the government's top level and the public is amazing."
Roll ball originated in neighboring India, as the results might suggest. In the finals Wednesday, both the Indian men and women won their respective championships, in each case defeating teams from Iran.
Bangladesh's men reached the semifinals, and team captain Mohammad Asif Iqbal said his country's hosting of the tournament will help the sport grow.
"Roll ball is now a known game in Bangladesh and it has good prospect in the future," he said.