None involved in mayhem will be spared: Home minister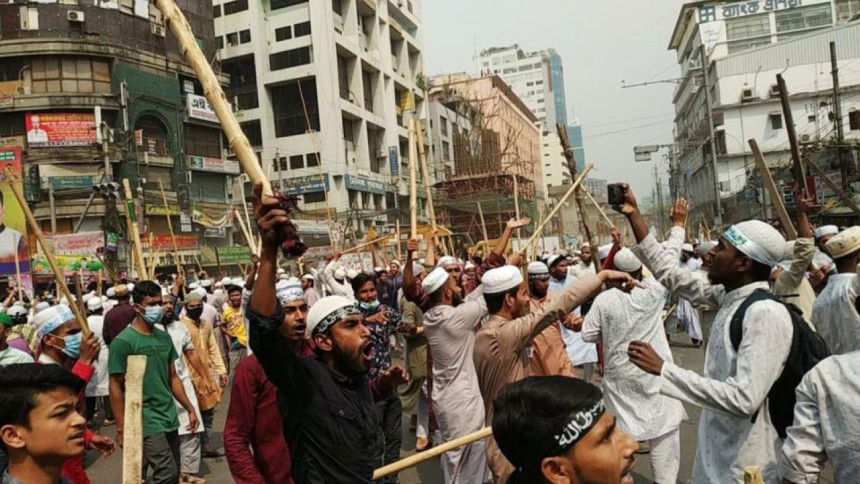 Home Minister Asaduzzaman Khan Kamal has warned that no one involved in mayhem across the country will be spared.
Urging for an end to the disorderly situation while addressing reporters at the Secretariat today, he said, "We are going to take action as per law, we will definitely take action."
Responding to a query on whether only Hefajat-e-Islam is responsible for the violence or if any other groups are involved, the minister said, "Their tactics and involvement of Basherkella make it clear that the militant outfits that previously tried to create terror and anarchy have been newly incorporated. We are looking into all the issues. No matter where they are, no one will be spared."
Asked who he meant by militant groups, the home minister said, "You have seen before that there are some banned militant outfits. This includes instigators and of Jamaat-e-Islami...
"When we pull the strings, we see that the leaders of these militant groups have been leaders of Jamaat-e-Islami before. Harkat-ul-Jihad, Ansar-Ullah Bangla Team, whatever you say, the main leadership of all of these outfits has come from Jamaat-Shibir," said the minister.
The home boss said the situation is being instigated by spreading false rumours and video through social media. "We are treating these as sabotage and a stance against the state," he said.
"Through you [journalists], we want to ask [them] to refrain from these. We are going to take action according to law, we will definitely take action. The government is taking all possible measures so that those who have been affected do not suffer anymore. As we are patiently watching, now we must remedy them, resist them, bring them under the law," said the minister.
Later in the evening, the home ministry in a press release said some unruly individuals and groups have been destroying government property in Chattogram's Hathazari upazila, Brahmanbaria Sadar, Sarail and Ashuganj in a religious frenzy for the last two days.
"Public property including Upazila Parishad, Thana Bhaban, government land office, police outpost, railway station, houses of political personalities and press club are being damaged," read the release signed by public relations officer Sharif Mahmud Opu. 
All concerned are requested to stop all forms of violence including such damage or else stern action will be taken to protect public property, the release added.
DRASTIC ACTION WILL BE TAKEN: LAW MINISTER
Meanwhile, Law Minister Anisul Huq also warned the perpetrators of violence, saying drastic action will be taken against those involved in vandalism and attacks.
"Of course, those who are trying to foil the celebration of the golden jubilee of the country's independence, are not showing respect and love to the motherland -- Bangladesh," said the minister while addressing a programme today.