'Mehmankhana' sharing Eid joy with hot meals for the less fortunate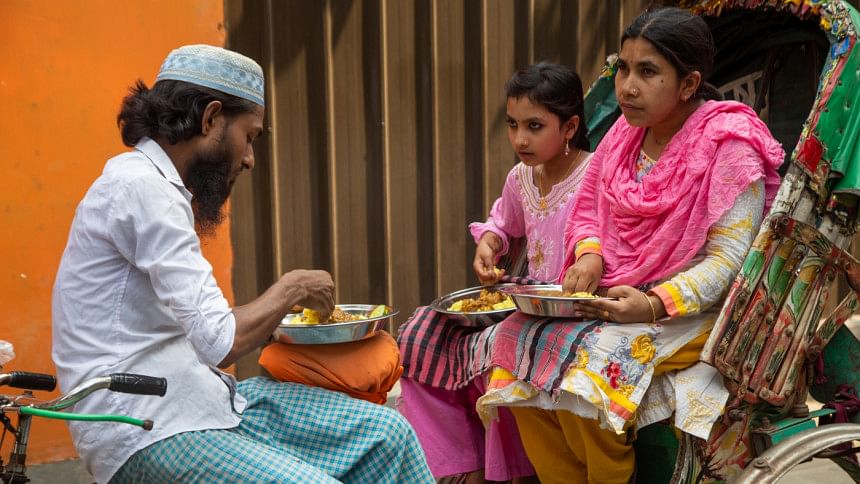 A long queue of people, waiting on rickshaws, formed on both sides of a road, while another group was sitting on the footpath. After a while, every one of them received a plate of khichuri with meat and they began relishing the meal, and just before they finished, volunteers announced that there was also shemai (sweet vermicelli) for everyone.
Such was the scene at 'Mehmankhana', a quaint corner of Dhaka's Lalmatia residential area today on the occasion of Eid-ul-Fitr, as a group of volunteers organised the event to feed low-income people on Eid day.
During the whole month of Ramadan, nearly 1,500 people received iftar here every day. 'Mehmankhana', as the organisers call it, aimed to provide hot meals to orphaned children, rickshaw-pullers, street vendors, and people from other marginalised sections of society who have become unemployed during lockdown.
Special arrangements were also made for all these people on the day of Eid. Everyone was happy with such an arrangement on Eid day.
"I didn't earn much before Eid. I couldn't go home either. I was not very excited on Eid day. But I felt better when I came here. Such a wonderful arrangement!" -- Raju Mia, a rickshaw-puller hailing from Rangpur, told The Daily Star.
Mahbub Hossain, another rickshaw-puller who was there with his wife and daughter, said he used to come here during Ramadan for meals and today he brought his family as they do not have much money, adding that he would take his wife and daughter for a city tour on his rickshaw after the Eid meal.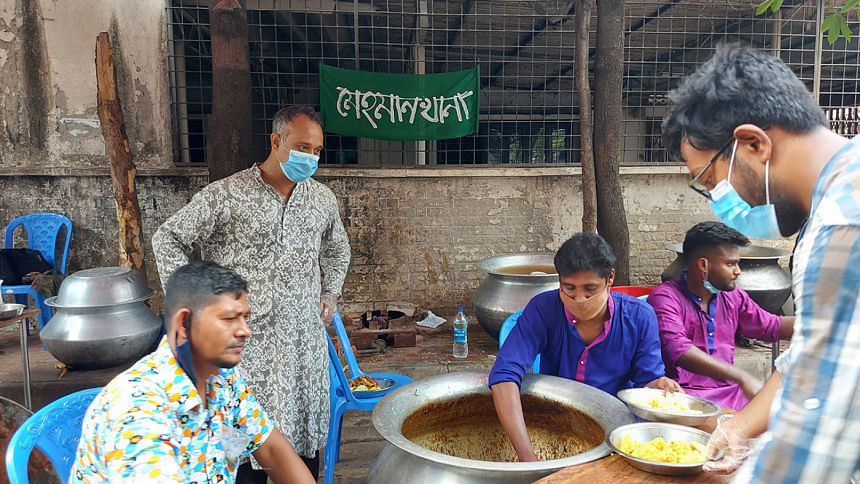 Ahmed Hossain of Barishal, a young construction worker, was also there. "I came here after hearing about it from someone. Volunteers took care of us in such a way that I felt I was at home on Eid," he said.
An engineer, Ejaz Ahmed -- while serving meat from a large pot to those having their Eid meal -- said, "I have been involved with Mehmankhana as a volunteer. One of the greatest joys of my life is to be involved with such arrangement."
According to the organisers, 20 to 25 volunteers have been working to feed the less fortunate.
Syed Shamsul Alam, who has been coordinating the volunteers, said that they arranged meals for nearly one and a half thousand people on Eid day.
"Everything was arranged at night while cooking started on Eid morning. Everyone was fed after 12:00pm. The purpose was to ensure hot and fresh food for the people," he said.
Asked how they came up with the idea, the volunteers said they had launched this initiative as a joint effort during the pandemic last year. Although only 11 volunteers were involved then, this year the number rose to around 20-25.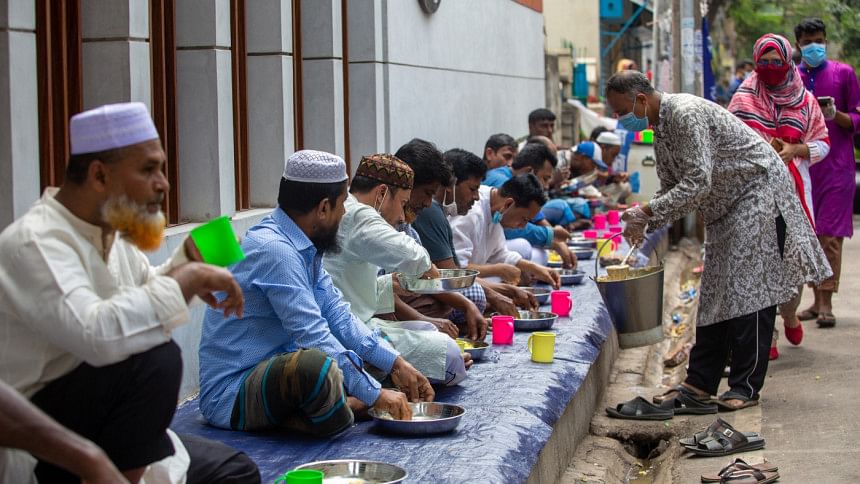 Theatre workers Asma Akter Liza, Syed Saiful Alam Shovon, Syed Shamsul Alam, Ijaz Ahmed, and some others have been with the initiative since the beginning.
Asked why she thought of starting this initiative, Asma Akter Liza told The Daily Star that after losing three of her newborn children due to health complications, she wanted to help children in need.
"I could see my babies in the faces of these helpless street children, which prompted me to initiate this service. But after the outbreak of Covid-19 last year, the plights of low-income people also began to stir up my thoughts," Liza said.
"During the closure due to the pandemic last year, when everyone was told to stay home, I used to feed some street dogs because they faced food crisis. One day I saw some children groaning in hunger in New Market area, which struck me hard. Then onwards I would cook and go to different places. At first it began with feeding one or two hundred people. My relatives also came forward. Then as Ramadan began, we started providing iftar to low-income people," she said.
Liza and her team continued the initiative to feed the poor once a day for four more months after Ramadan last year. Later on, due to fund constraints, they cut it down from a daily programme to feeding once a week on Fridays. But this year, starting from the first week of April when the government reimposed the lockdown, Liza and the team decided to reach out to more distressed people during Ramadan.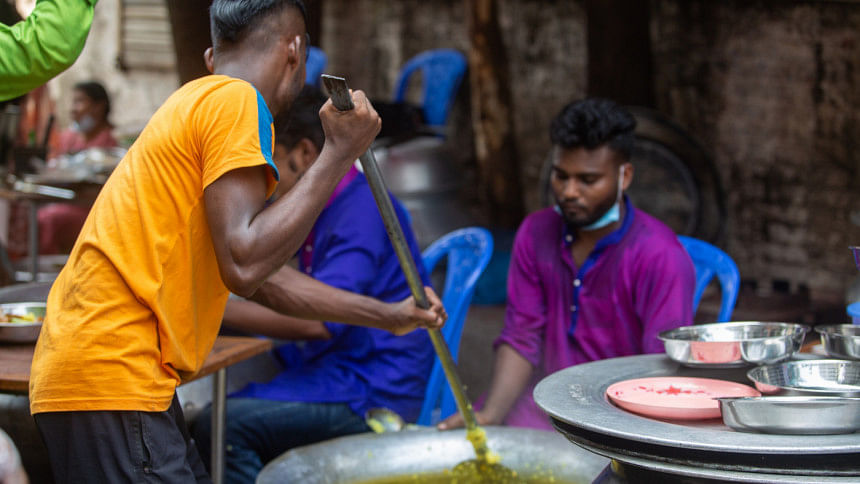 According to the organisers, over 1,500 people got iftar every day during Ramadan this year. At first, people from the areas around Lalmatia started coming. Gradually the number increased. Mehmankhana organisers also sent nearly 400 food packets to different houses in the area to relatively better-off families who lost their sources of income due to the pandemic and felt embarrassed to queue up for food. Organisers said they did not want any corporate tag and so they have collected the money themselves, their relatives and from various known and unknown sources through social media. 
"Many people we know and also strangers have extended their support. We did not want to put any corporate tag on this humanitarian work. The way the volunteers have done everything is incomparable," Syed Saiful Alam Shovon said.
"We are running Mehmankhana with the help of all and we want to continue this initiative for poor people," he added.
The writer is a freelance journalist.