5 dead as police open fire on coal power plant workers in Chattogram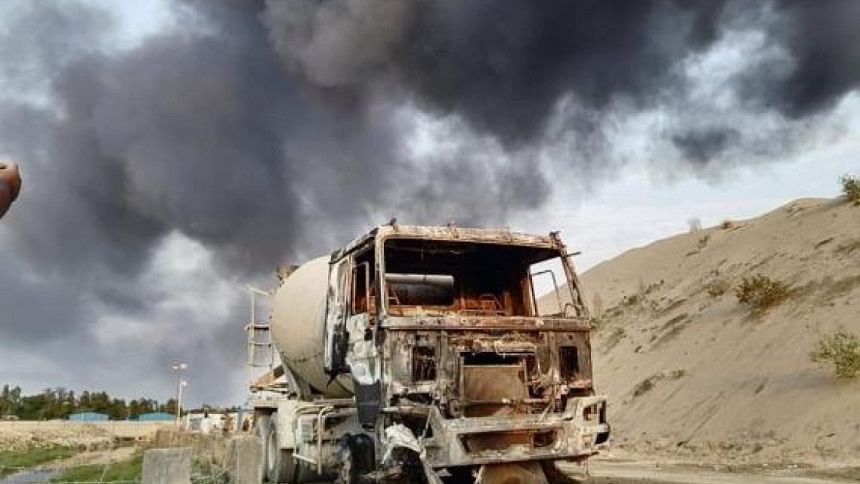 At least five workers of an under-construction coal-fired power plant were killed and over 21 injured during a clash with police at Gandamara union under Banshkhali upazila of Chattogram this morning.
Workers of the S Alam group owned coal-based power plant SS Power Plant alleged that police opened fire on them while they were peacefully demonstrating for their five-point, including payment of their overdue salary.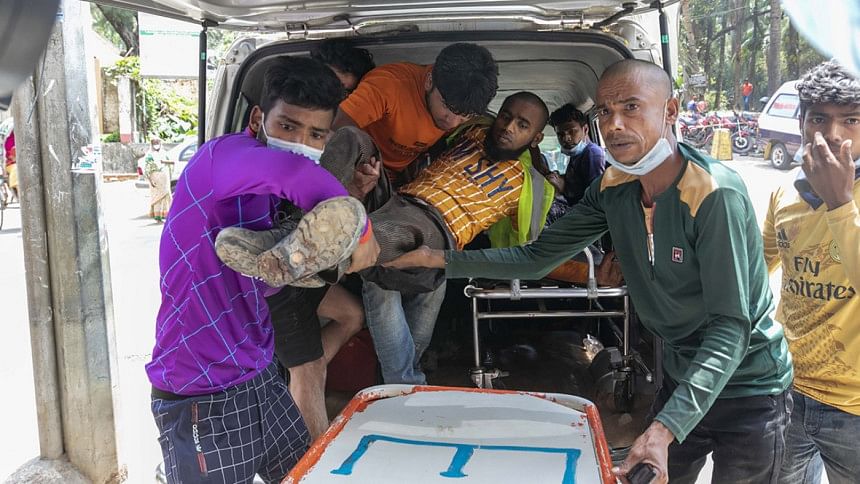 The deceased are Rony of Chuadanga, Md Rahad of Kishoreganj, Shuvo of Narsingdi, Mahmud Reza of Banshkhali and Raihan, 18, a crane operator, of Noakhali, said district police and Chattogram Medical College Hospital (CMCH) police outpost sources.
Among them, Raihan succumbed to his injuries at CMCH.
Police and workers said the incident took place inside the power plant project area around 9:30am in morning.
Seven vehicles -- six cement mixers and a microbus -- were set ablaze during the incident. Besides, a cement godown was torched, reports our Chattogram staff correspondent quoting the witnesses.
Police and workers blamed each other for the arson.
Deputy Inspector General (DIG) of Chattogram Range Anwar Hossain told The Daily Star, "Workers of the coal-based power plant of Gandamara at Banshkhali had been demonstrating since Friday morning over several points of demands.
"However, a meeting had been held between them and the authority but the agitating workers in the morning started demonstrations and at one point they attacked the plant and on-duty police personnel of the project area," said the DIG.
"During the attack, police retaliated with fire leaving four persons dead," added DIG Anwar.
"Three police officers also sustained injuries in the attack and were sent to CMCH for treatment," he said.
Ebadat Hossen, chief financial officer of SS Power Plant, told The Daily Star they don't deal with the labours as they were overseen by a local sub-contractor who also acts under the chinese company.
"We don't know what happened. But we are collecting information… we will give our statement after our internal assessment within a few days," he said.
Two investigation committees were formed -- one by police and another by Chattogram district administration.
The first committee of police was asked to submit their report within three working days while the later committee will submit it within seven working days.
In the meantime, Chattogram district administration have pledged Tk three lakh to members of the deceased families, while the injured will be given Tk 50,000 each and their medical expenses will be paid for.
Of the 21 injured, most had been shot at, said on-duty doctors of CMCH emergency ward.
An eyewitness, Miran Hossain Rockey, cousin of deceased Raihan and also a crane operator of the power plant site, told The Daily Star, "Workers had staged a demonstration over several points of demands including their arrears since Friday morning. However, on Saturday morning, police came to the workers asking them to continue working as the authorities had approved their demands.
"But the workers did not believe the police speech. Few minutes later, police officers returned and started firing blank shots. Later, the agitating workers started pelting brickbats and police started firing indiscriminately," said a blood-soaked Miran.
"My cousin just came out of his room to see what was happening when two bullets hit his left thigh. I rescued him and took him two local hospitals in Banshkhali but they refused to admit him. He succumbed to his injures at CMCH," Miran said.
Miran informed that Raihan had joined the site only five months ago.
Eyewitness Nazim Uddin, a driver of the power plant project, at CMCH told The Daily Star, "I was standing just outside the gate where I saw workers had gathered. Suddenly I heard gunshots and later found many workers bullet hit.
"During the incident, we saw the Chinese workers standing beside the police, but they did nothing," he claimed.
Workers of the site said that more than 4,000 workers are working on the power plant project.
Most of the workers are contractual and they are recruited by different local agencies. The workers said they use to work 12 hours daily, including four hours of overtime.
The demands of the workers are one hour for iftar each day; one hour for prayers, half-day duty time on the weekends (Friday), two eid bonuses according to their salary scale and not cutting their work hours verbally.
The DIG said the situation now under control and additional police forces have been deployed to fend off any further untoward incident.
S Alam Group has been installing the 1224 Megawatt coal-fired power plant at Gandamara of Banshkhali.
Earlier, four villagers were killed on April 04, 2016 during a clash over acquiring the land for the power plant project.