Endangered by engines
Animals dying as road, rails run thru' Lawachhara forest; LGED project to build alternative road still waiting for Ecnec approval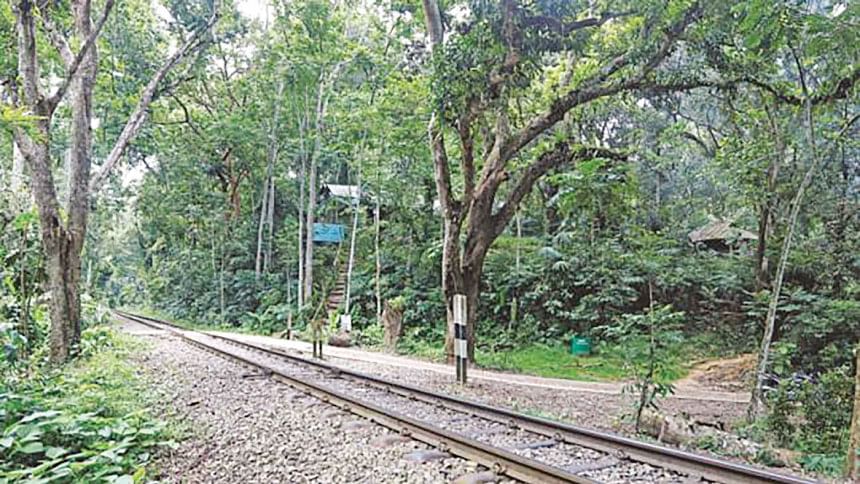 Deaths of rare and endangered species of wildlife under the wheels of vehicles and on train tracks are rampant in Moulvibazar's Lawachhara forest.
A 6.5-kilometre road connecting Sreemangal and Kamalganj and a five-kilometre portion of the Dhaka-Sylhet rail route goes through the forest.
On average, three wild animals die every day on these roads and rail tracks, found wildlife research body Creative Conservation Alliance in a survey conducted last year.
Wildlife frequently end up roadkill when trying to cross the road and rail track, which go through the forest, and are hit by vehicles and trains, said Shahriar Caesar Rahman, co-founder of the Creative Conservation Alliance.
Around 500 vehicles traverse the road and 10-12 trains run on this route daily, he added.
A leopard was killed on March 12 and two rare species of Phayre's leaf monkeys died separately on January 23 and February 7 this year after speeding vehicles hit them on the roads through the forest.
Last year, an endangered species of rabbit died on October 28, a rare civet on October 16, and a rare species of monkey died in mid-September in similar fashion.
These wildlife deaths were recorded by the Wildlife Management and Nature Conservation Division, a government body.
Shamsul Haque, senior member secretary of non-governmental organisation Lawachhara Forest and Biodiversity Conservation Andolon, said many accidents which claim wildlife remain unrecorded.
Earlier, a survey conducted in the forest between September 2017 and February 2018 by Jagannath University zoology students found at least 95 animals died in road and railway accidents in the six month-period, said Salauddin, a member of the study group.
"We conducted the survey in winter. But we are sure that the death rate in such accidents is higher in the rainy season than in winter," he told The Daily Star.
Alongside deaths, many animals are also injured in accidents, said wildlife conservation activists.
Director of the Bangladesh Bonyo Prani Sheba Foundation Swapan Deb Sajal said, "Every year, we rescue around 100 injured animals from and near Lawachhara."
Local driver Saddam Hossain said most drivers speed in the forest, causing such accidents frequently.
Md Rezaul Karim Chowdhury, divisional forest officer of Wildlife Management and Nature Conservation Division in Sylhet, said despite multiple signboards of a "restricted speed" of 20km/hr on this stretch of road, no drivers pay any heed to these.
Apart from road and rail accidents, animals are also killed from electrocution, said environmentalists and wildlife experts.
Abdul Karim Kim, executive member of Bangladesh Paribesh Andolon, said, "That is why we have been demanding an alternative road, railway and electric wire system outside the forest for a long time."
Government official Rezaul agrees. "If the alternative roads and rail lines are constructed, we will fence the roads and rail lines off. It will ensure safety for wildlife."
The government's local government engineering department has initiated a project to construct an alternative road from Sreemangal to Bhanugach.
LGED Executive Engineer Iqbal Ahmed said the project proposal has been sent to the planning ministry and is waiting to be placed at a pre-Ecnec (Executive Committee of the National Economic Council) meeting for approval.
Contacted, Environment, Forest and Climate Change Minister Md Shahab Uddin said approval of the project was delayed due to the pandemic.
 "However, we will now try to speed up the process," added the minister.