'Death not desirable but what to do if an unwell person dies?' -- PM says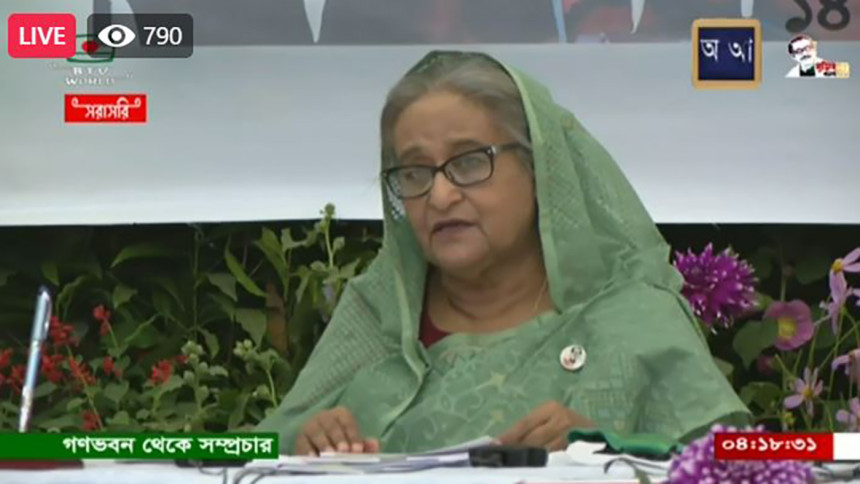 Prime Minister Sheikh Hasina today said that no death is desirable, and nor is creating unrest centring the death.
The premier said this, responding to a query while briefing the media virtually from Gono Bhaban about the UN recommendation for graduating from LDC status.
"As we have developed a digital Bangladesh, it is also our responsibility to provide digital security," the prime minister said, responding to a query on the Digital Security Act. 
She said, "We have to fulfil this responsibility so that no one -- from the youngest children to the youth of our country -- goes astray in the digital sphere or gets involved in militancy, terrorism or any other activity that is harmful to the country." 
That is why it is essential to provide digital security along with developing a digital Bangladesh, she said.
Sheikh Hasina said, "I don't want to talk any more about this. But I will say that those who are criticising, will continue to do so. But are you noticing something? Who are criticising (this) the most?"
"... No death is desirable. But it is also not desirable to create unrest centring that. On November 3, four leaders of the country were killed in jail. There is no such incident in the country now. But what to do if an unwell person dies?" the PM questioned.
The prime minister's comments came at a time when student bodies were staging demonstration in Dhaka's Shahbagh today, demanding investigation into the death in custody of Mushtaq Ahmed, who was arrested under the Digital Security Act. 
Mushtaq died in Kashimpur High-Security Jail-3 in Gazipur on Thursday.
READ MORE: Bangladesh's transition to developing country a historic event: PM