Bangladesh tour of Sri Lanka, 1st Test
Tigers trail Sri Lanka by 361 runs after Day-2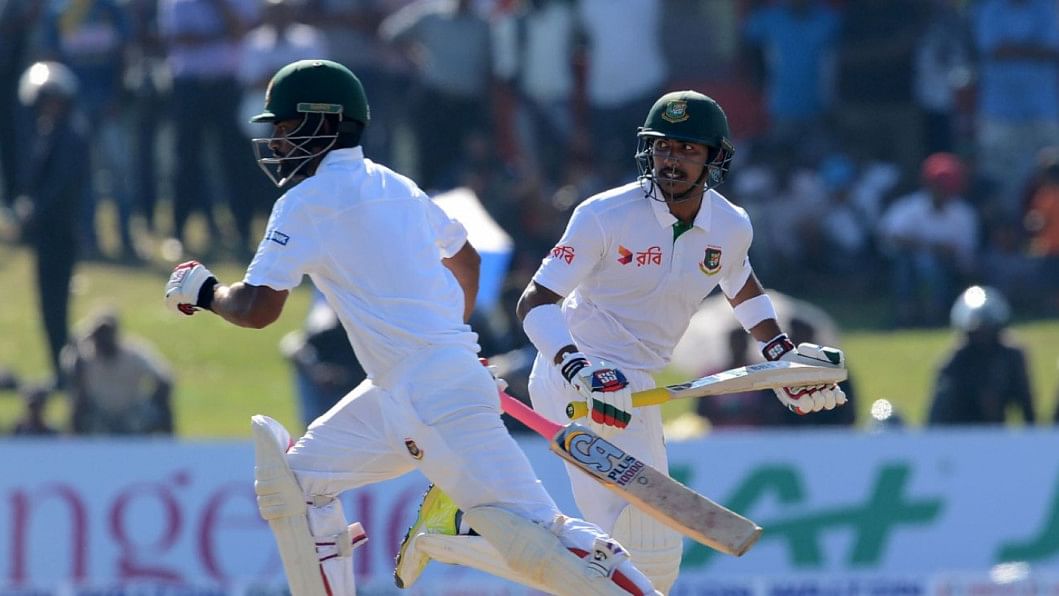 Bangladesh trail Sri Lanka by 361 runs with 8 wickets remaining in their first innings of the first Test at the Galle International Stadium today.
Soumya Sarkar was batting on 66 and Tigers skipper Mushfiqur Rahim on 1 when the players left the field at stumps on day-2. The last session of day-2 produced 102 runs in 36 overs while two wickets were taken.
Tamim Iqbal and Mominul Haque were the wickets to fall for Bangladesh. Tamim made 57 from 112 balls. Mominul was out for seven. Dilruwan Perera took a wicket for 32 runs in 13 overs.
Mominul Haque became the second wicket to fall for Bangladesh when he was trapped in front for 7 to leave the tourists at 127 for 2 after 40.3 overs.
Mominul ploy of playing on the back foot backfired. After he missed the good length ball on off from Dilruwan Perera and was struck in front, the umpire raised his finger without much hesitation. It was plumb!
Mominul Haque lbw b Perera 7 (17b 1x4 0x6) SR: 41.17
Fall of wicket 127/2 (40.3 ov); Partnership: 9 runs, 4.3 overs, RR: 2.00 (Mominul Haque 7, Soumya Sarkar 2)
Earlier, Bangladesh lost their first wicket in the first innings when Tamim Iqbal was needlessly run out after scoring 57 to leave his team at 118 for 1 after 36 overs.
Tamim tried to tuck a ball from Sandakan fine but couldn't make proper contact. He ran down the pitch aimlessly with the ball still in the gloves of the keeper. Niroshan saw the chance of a lifetime with Tamim near the middle of the pitch and removed the bails to the sheer delight of his teammates.
Lucky breakthrough for the hosts!
Tamim Iqbal run out 57 (112b 6x4 0x6) SR: 50.89
Fall of wicket 118/1 (35.6 ov); Partnership: 118 runs, 36.0 overs, RR: 3.27 (Tamim Iqbal 57, Soumya Sarkar 59)
The first wicket stand between Tamim Iqbal and Soumya Sarkar of over 100 runs in 33 overs gave their team a solid platform to push for a big total.
Tamim was batting on 57 from 106 balls and Soumya on 53 from 98 when Bangladesh reached 112 for o after 34 overs. Both the batters were playing sensibly and tried to rotate the strike as often as possible.
Sri Lanka took a review in the 32nd over when the umpire ruled in the batsman's favour. Replays showed Soumya got an inside edge, thus the lbw appeal was turned down.
Tamim was reprieved in the 28th over when Sri Lanka wicketkeeper Niroshan Dickwella shelled a tough chance. Bangladesh opener tried to cut the ball, but could only manage a top-edge that the wicketkeeper failed to grasp in time.
Bangladesh reached 31 in 10 overs without losing any wickets when the players left the field for tea on day-2.
Earlier, Tamim Iqbal and Soumya Sarkar looked to bat positively during Bangladesh's first innings after Sri Lanka were bowled out for 494.
Tamim used his feet to the spinner and showed his intent from the outset. However, his partner Soumya had a slice of luck during the third over bowled by Suranga Lakmal.
Soumya went for the drive to a full ball outside off without moving his feet. The edge flew to gully where the fielder could not take the catch to the disappointment of his teammates.
Sri Lanka were all out for 494 after 129.1 overs in their first innings.
The fourth wicket stand of 196 between Asela Gunaratne and Kusal Mendis, followed by the fifth wicket partnership of 110 between Kusal and Niroshan Dickwella enabled Sri Lanka to post a huge total in the end.
Handy partnerships lower down the order also contributed to Sri Lanka's cause. Kusal was the top-scorer for his side with 194. Asela made 85, Niroshan 75 while Dilruwan Perera chipped in with 51.
For Bangladesh, Mehedi Hasan Miraz took four wickets for 113 runs in 22 overs. Mustafizur captured two for 68 in 25.
Lakshan Sandakan was the last wicket to fall for the hosts when he was superbly caught by Mehedi running backwards.
PADLR Sandakan c Mehedi Hasan Miraz b Shakib Al Hasan 5 (15b 0x4 0x6) SR: 33.33
Fall of wicket 494/10 (129.1 ov); Partnership: 0 runs, 0.2 overs, RR: 0.00 (Sandakan 0, Kumara 0)
Dilruwan was dismissed by Mehedi in the 129th over. The Sri Lankan batter went for the sweep and didn't make contact with the ball. The ball went straight on and hit him in front of off stump. No bat involved. Ball tracking shows this is hitting off stump. Out.
MDK Perera lbw b Mehedi Hasan Miraz 51 (77b 7x4 1x6) SR: 66.23
Fall of wicket 494/9 (128.5 ov); Partnership: 14 runs, 3.2 overs, RR: 4.20 (Perera 5, Sandakan 5)
Suranga Lakmal became the eighth wicket to fall in the first innings when he was run out for 8 to leave the hosts at 480 for 8 after 125.3 overs.
Lakmal played a ball from Shakib Al Hasan with an open face to short third man and took off for a run. His partner didn't respond to his call and Lakmal was miles short of the crease.
RAS Lakmal run out 8 (29b 1x4 0x6) SR: 27.58
Fall of wicket 480/8 (125.3 ov); Partnership: 23 runs, 9.1 overs, RR: 2.50 (Perera 15, Lakmal 8)
Earlier, Bangladesh pacer Mustafizur Rahman struck after lunch and sent back Sri Lanka captain Rangana Herath for 14 to leave the hosts at 457 for 7 after 116.2 overs.
Fizz pitched one on good length outside off, and his trademark cutter jumped and took the shoulder of Herath's bat. The catch was safely completed at first slip by Soumya Sarkar.
HMRKB Herath c Soumya Sarkar b Mustafizur Rahman 14 (19b 3x4 0x6) SR: 73.68
Fall of wicket 457/7 (116.2 ov); Partnership: 25 runs, 6.2 overs, RR: 3.94 (Herath 14, Perera 11)
Sri Lanka reached 443 for 6 in 114 overs at lunch on day-2.
In a session that produced 122 runs in 24 overs with two wickets taken, the hosts had the upper hand as their batters extended the game without much difficulty. Thanks to the efforts of Kusal Mendis and Niroshan Dickwella, Sri Lanka look set to pile up a huge first innings total at Galle.
Dilruwan Perera was batting on 30 from 41 while Sri Lanka captain Rangana Herath was on one when the players left the field for lunch. Mehedi Hasan Miraz was the only bowler for the tourists to get a breakthrough during the morning session.
Mehedi gave Bangladesh their sixth wicket when he dismissed Niroshan Dickwella for 75 to leave Sri Lanka at 432 for 6 in 110 overs.
Niroshan, who was instrumental in the fifth-wicket stand of 110 with Kusal Mendis was not quite to the pitch of the ball as he went with his shot. The top edge carried to short third man where Mahmudullah Riyad took a simple catch.
N Dickwella c Mahmudullah b Mehedi Hasan Miraz 75 (76b 6x4 1x6) SR: 98.68
Fall of wicket 432/6 (109.6 ov); Partnership: 34 runs, 6.3 overs, RR: 5.23 (Perera 20, Dickwella 12)
Sri Lanka batsman Kusal Mendis became the fifth wicket to fall in the first innings when he was brilliantly caught in the deep by Tamim Iqbal with the hosts at 398 for 5 after 103.3 overs.
Kusal, who was absolutely on top of his game went for glory, a six to reach his double hundred. Mehedi Hasan Miraz tossed up the ball quite invitingly outside off, Mendis came down the track, he was looking to go back over the bowler's head and the drift made the ball go away from him.
In the end Kusal dragged his shot towards long-on where Tamim Iqbal showed his presence of mind to take a brilliant catch.
Tamim was under the ball in the deep, he watched it all along, completed the catch, recognized that he was crossing the ropes. The left-handed opener threw the ball in the air as he crossed over the boundary ropes, steadied himself, came back into the field to complete the catch to the delight of his teammates.
If only Mustafizur Rahman had the awareness of Tamim, Bangladesh would have had something more to cheer about!
BKG Mendis c Tamim Iqbal b Mehedi Hasan Miraz 194 (285b 19x4 4x6) SR: 68.07
Fall of wicket 398/5 (103.3 ov); Partnership: 110 runs, 20.4 overs, RR: 5.32 (Dickwella 63, Mendis 43)
During the 101st over bowled by Taskin Ahmed, a review was wasted as the bowler was convinced with his appeal that he had got his man. Niroshan Dickwella played across the line to a ball that pitched outside leg, missed his shot and was struck in the pads.
After the review was taken, replays showed the ball pitched outside the leg stump and the on-field umpire's decision of not out was not overturned.
Overnight unbeaten batsmen Kusal Mendis and Niroshan Dickwella began positively and looked composed at the crease.
On the batting track at Galle, both the batters could trust the bounce and play their shots quite comfortably both on the front and back foot. When the Bangladesh bowlers pitched too full, Niroshan and Kusal were quick to pounce on them, and the relatively fast outfield gave them full value for their shots.
Bangladesh's plight was perhaps best surmised by the comical scene in the 95th over bowled by Subashis Roy. A well directed short ball took the top edge of Kusal's bat. Mustafizur Rahman at fine-leg took the catch but stepped over the boundary ropes in his effort.
At the same time the bowler was elated with his pose, the umpire raised both his hands to signal a six. Kusal could not help but smile at the gaffe.