The man behind Tepurgari's fairytale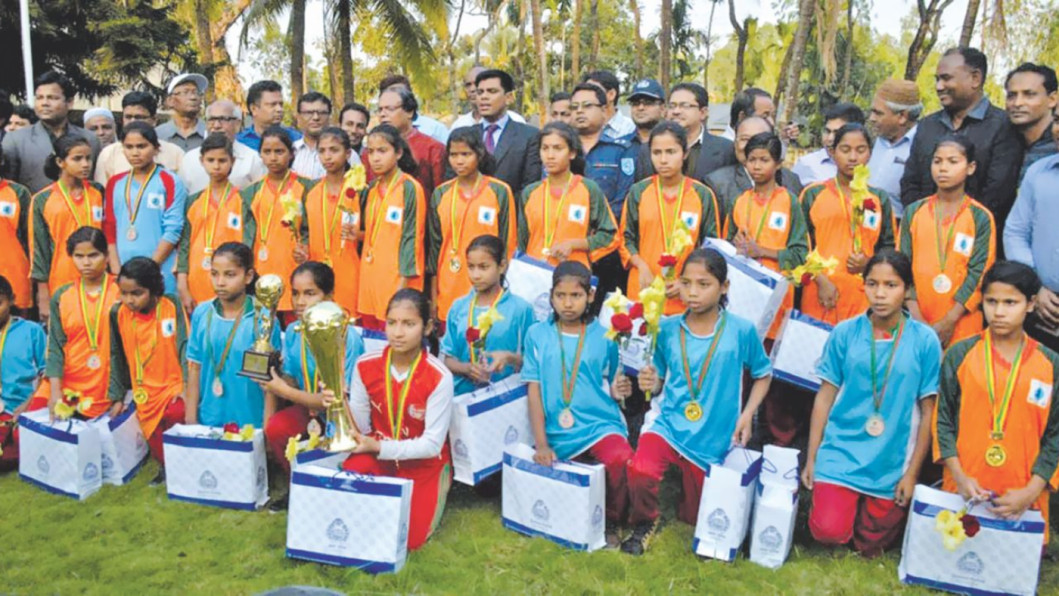 They don't have a playground in their school. They don't have fans or lights in their classroom. They live in extreme poverty and their fathers temporarily migrate to big cities including Dhaka to pull rickshaws when they are done with the seasonal harvesting.
But those underprivileged girls, enrolled in a non-descript primary school in the northern frontier of the country, scripted an amazing success story last week when they crowned themselves champions in the Bangamata Begum Fazilatunnesa Mujib Gold Cup – a football competition for girls of all the primary schools in the country that along with the Bangabandhu Gold Cup (a competition for the boy's) has created an enormous ripple in every nook and cranny of the country.
And when the girls from Tepurgari BK Govt Primary School of Patgram took the winners' trophy from Prime Minister Sheikh Hasina at the Bangabandhu National Stadium on Thursday, where they beat Borabari Govt Primary High School of Rajshahi 1-0 in the final, it completed a fulfilling journey for those malnourished yet steely-committed girls and a dream come true for their mentor Abdur Rashid.
Tepurgari have not only won the title but have done so in style, conceding not a single goal against the 50 they have scored in the 15 games they played all the way to the finals from union, upazila, district and divisional levels.
The success story of Tepurgari may not be as spectacular as Kalsindur, another non-descript primary school from Mymensingh that gave the underprivileged girls a new meaning of life and many of the students of that school are now playing for the pride of the nation at the international level.
But the context and effort put in by a selfless man behind this latest success story deserves plaudits.
Rashid is not only the headmaster of the school but also the mentor, financier and visionary behind that spectacular journey of a school, which in a mere 34 decimal land accommodates a dilapidated tinned structure where 224 girls are enrolled.
"I wanted to be a chairman of my locality. But my father was against it. So, when the government nationalized all the primary schools in 2011 it became easier for me to think differently because my position did not allow me to pursue my political ambition. I was always a sport lover and thought of giving it a go to achieve something with my students," Rashid told this correspondent over phone.
He also said that it was always tough to attract girls to play football.
"We all know how difficult it is in our country to attract girls to play football. In a remote area like Patgram it is even more difficult. The parents of the girls told me that if they play football it would be impossible for them to find husbands for their girls in the future. So, I promised them I will pay 20,000 each for them once they are at a stage to get married," said Rashid, adding that most of the 24 girls in his winning team are not from affluent families.
"Their fathers either work for other's farms, are day labourers or rickshaw pullers. But I can tell you these girls are as talented as any girls in the world. They work hard and never complained about whatever tiffin I provided during camp," said the 48-year-old Rashid, who has also got his own business.
A father of three sons and two daughters, Rashid might not have played the game at the top level—he was a champion in the long cycling race in the locality – but his understanding and work ethics towards a goal is certainly fascinating.
"Since we did not have our own playground the selected players normally trained in a high school 1.5 km away from our school. Normally they trained there three days a week. But from October onward they trained six days a week for the competition," Rashid said adding that he could only provide bread and bananas during the early stages of training.
"This was what I could provide from my earnings. But I have also instructed our local doctor that any player of my team visiting his place would be treated at my expense," said Rashid.
During the district and divisional rounds Rashid made his Lalmonirhat home a residential camp and his wife, who is also a teacher, was the custodian cum cook of his players. He also hired Alim Al Sayed Khokon as coach for the divisional and final rounds.
"I hired Alim so that our girls can learn new things which we lacked last year. After all you need to know new things if you want to grow. I had to accommodate him in a rest house and arranged a hotel so that he could eat whatever he feels like," said the architect of Tepurgari's victory.
He also mentioned that he has got a little 'Messi' (Usha Akhter) in his team and he cannot wait any longer to return to Patgram and celebrate the little success with those little girls.