'Strict lockdown': 1st day of Ramadan, Pahela Baishakh marked by mostly vacant Dhaka streets
The seven-day "strict lockdown" has begun this Pahela Baishakh morning with only a few people on Dhaka streets amid heavy presence of law enforcers to implement the restriction.
As the first day of the Bangla new year is a public holiday and all public, private offices are directed to remain closed during the restriction period, presence of people on the city streets early this morning was very thin. 
Police have set up checkpoints on major streets to control movement.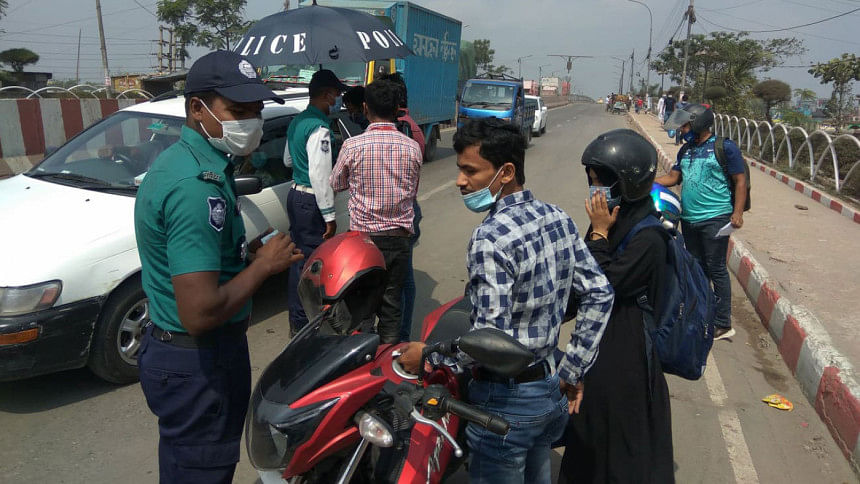 No public transports were seen on the roads. Only some private vehicles were seen plying the streets.
Vehicles were being stopped at checkpoints; passengers were being asked for their identities and reasons for being out on the streets during the "lockdown".
Those who were walking towards their destinations were also being stopped and questioned by law enforcers.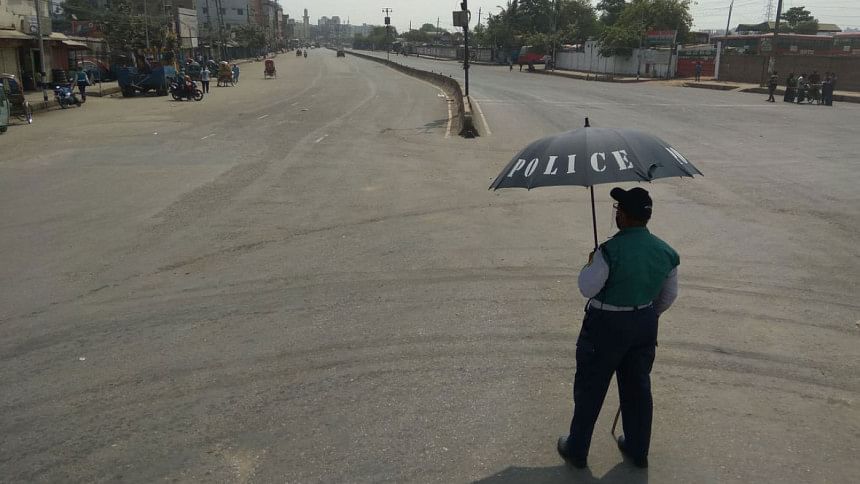 Law enforcers were seen asking them to show "movement pass" issued by the police. Vehicles carrying goods and produce were allowed on the streets.
In Shewrapara, our correspondent saw only some rickshaws plying on the busy Begum Rokeya Sarani.
Many of the shops in the nearby alleys, however, were kept open. Some shop owners put the shutters half down and closed their shops whenever they saw police approaching.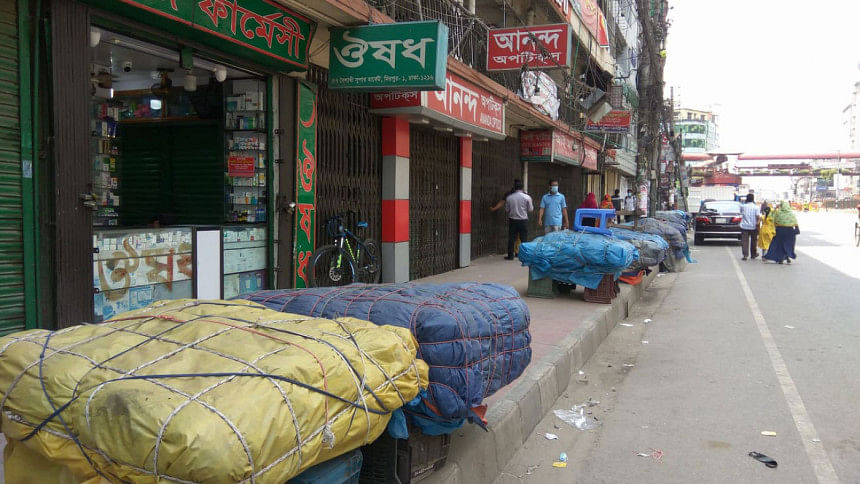 Around 10:00am, only a few people wearing masks were seen walking on the busy Mirpur-10 roundabout. The road was almost vacant. 
Kazi Wazed Ali, officer-in-charge of Pallabi Police Station, said, "Only a few people are seen in the alleys. We are requesting them to go home."
"We are on the streets since early morning. Nothing except some restaurants and medicine shops are open," he said.
Our correspondent visited Green Road to Mirpur's Kazipara area and saw police blocking the road at least at four points to check movement.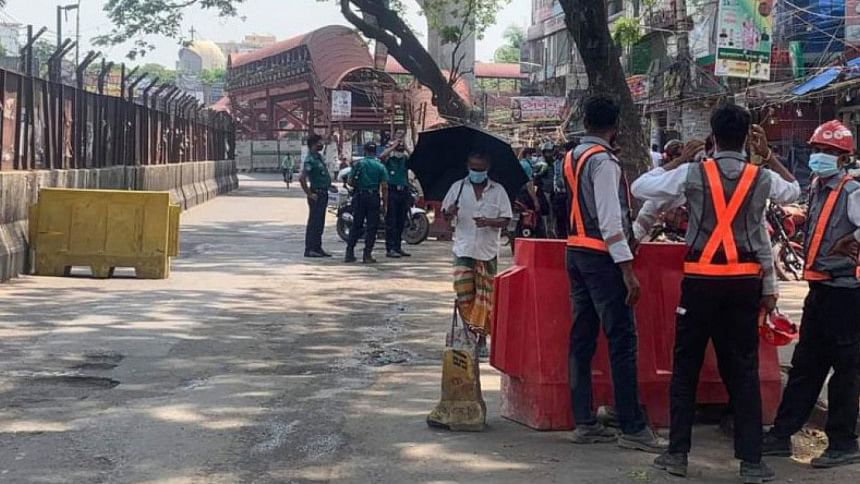 There were some vendors on the streets selling vegetables, fruits and fish. People were seen buying daily essentials in Kazipara kitchen markets.
At some points, police fined private cars and motorcycles for plying without movement passes, our photojournalists reported from Gabtoli, Mirpur, Aminbazar and Dhanmodi areas.
Some workers of online food and grocery delivery platforms were also fined in the morning.
A good number of rickshaws were seen on the roads when our correspondent visited the capital's Shahbagh and Panthapath areas today.
Along with rickshaws, some trucks with emergency stickers and a few motorcycles were also seen on the streets.
Some people were seen showing movement passes after they were stopped at police checkpoints.
People were seen rushing to retail, wholesale shops and kitchen market at Kathalbagan for daily essentials
The government on Monday issued a gazette notification with details on the strict restrictions to be imposed from 6:00am on April 14 to April 21 midnight -- to curb the sharp rise in Covid-19 cases and deaths.