Names of top 300 loan defaulters disclosed
Tk 50,942cr loan defaulted by them, finance minister tells JS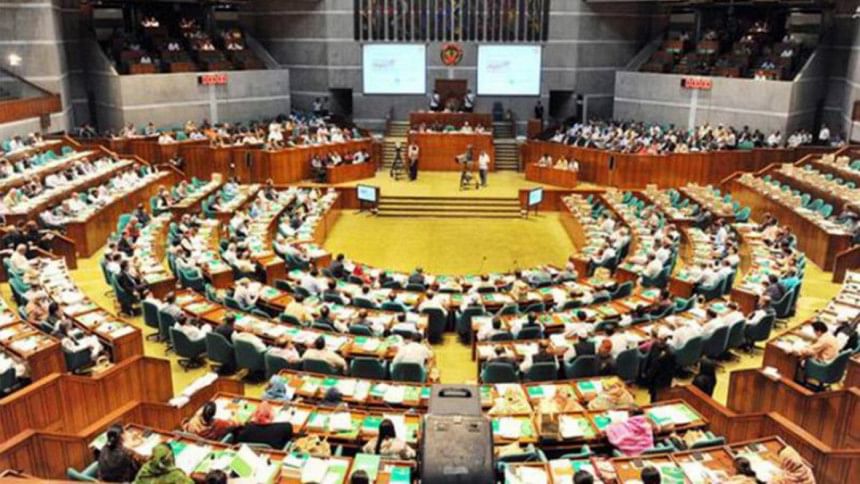 Finance Minister AHM Mustafa Kamal today revealed the names of the top 300 loan defaulters in the parliament.
The minister disclosed the list of the loan defaulters in the House responding to a query of ruling Awami League MP M Israfil Alam.
The top ten defaulters are Samannaz Super Oil Ltd with defaulted loan of Tk 1,049 crore while Galaxy Sweater and Yarn Dyeing Ltd with Tk 984 crore, Rimex Footwear Ltd with Tk 976 crore, Quantum Power Systems Ltd with Tk 828 crore, Maheen Enterprise Ltd Tk 825 crore, Rupali Composite Leather Wear Ltd with Tk 798 crore, Crescent Leather Products Ltd with Tk 776 crore, S. A Oil Refinery Ltd with Tk 707 crore, Suprov Composite Knit Ltd with Tk 610 crore and Grameen Shakti with Tk 601 crore.      
In a scripted answer, he said the top 300 loan defaulters have defaulted loan of Tk 50,942 crore at banks.
The finance minister also provided a list of 14,617 individuals and institutions who have outstanding loans of over Tk five crore since 2009.
These individuals and institutions have sanction limit of Tk 1,741,348 crore, outstanding loan of Tk 784624 crore, classified amount Tk 110541 and defaulted loan Tk 100,183 crore.
Here is the list of top 300 loan defaulters