'No team is unbeatable'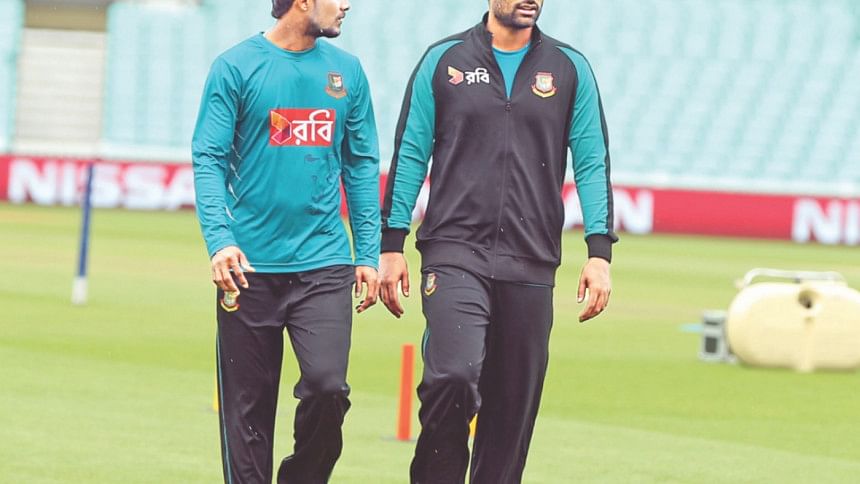 Tamim Iqbal is a man on a mission. The left-handed opening batsman, who is in fine form, believes that nothing is impossible for this vibrant new Bangladesh.
While talking to this reporter at the team hotel in London prior to heading for the team's training session at The Oval, where Bangladesh will play their last practice game against India today and also play the ICC Champions Trophy opener against hosts England on June 1, Tamim said that they believe nobody is unbeatable. He also assured that it is only a matter of an innings for a champion all-rounder to rediscover his form.   
"I have tried my best. I'm happy that I'm in a rhythm. I was quite successful in the last series. My target is to keep on continuing to contribute for my team in the next three games. And if I can do that we have a chance to do better in the tournament. But I've always said that we will have to act as a team, which we have been trying to do for the last two odd years," Tamim told this reporter during an extended chat.
 "We are in a very difficult group. We have been placed with teams who play very well in these conditions. So, it will always be difficult for an Asian team. But we are now not a team that is going to start a game with a defeatist mind-set. We are now not a team for anyone to beat easily. I think we have earned respect from other teams with consistent good performances," said a confident Tamim, who has the most ODI runs and centuries for Bangladesh under his belt.
Asked what positive changes the team has made since the last World Cup down under in 2015, he said: "The biggest change is that we are more confident now. Ever since the last World Cup we played consistently good cricket. It was not that we have won one or two games in patches, which was the case before; we have won series against big teams. We have also played well away from home. The tri-series in Ireland is a very important build-up for us."
He did not like the idea of donning tags like 'underdog' or 'dark horse' heading into the second-most important ICC flagship event.
 "I don't like to put a tag or something like that. We have been preparing ourselves well for the tournament. We are trying to execute our plans. We have got five to six players who are very experienced. We have now got a very talented young batch who have got the experience of 30-40 one-day games. And if we can execute our plans we will be very tough to beat by even the best in the world,'' he added.
He also said he was very disappointed with the Pakistan defeat.
"It really hurt us all. We should have won that game. This is what we are focusing on -- not to commit those small mistakes. You have seen how South Africa lost their game against England in just seven-eight balls. We are trying to correct those small mistakes. We certainly have more talent in the team than two years ago," observed a member of the fantastic five.
He also said that his long-time associate, Shakib Al Hasan, will find form sooner rather than later.
"I have always said that senior players should play important roles in the team. I'm in a good rhythm now, so is [Mahmudullah] Riyad Bhai. Mushfiqur [Rahim] Bhai is also playing well. But we will have to accept that everybody may not play well at the same time. The important thing is that if you are in from you must carry on and finish the job. Shakib may not be in the best of form at the moment but I know it's a matter one innings and he knows it too. And if he clicks we will be a dangerous side."
Asked how important the first game against England will be, Tamim said: "Every game is important but the first match is crucial because it gives you an indication of where you are heading. England are one of the best teams in the world and they are more dominant on their home turf. But nobody is unbeatable. We are not thinking how good they are; we are more focused on our own game. And we are a team that believes nothing is impossible."
He felt that the only crucial cog Bangladesh will be missing going into the tournament is a good pace bowling all-rounder.
"We can improve in all three departments. Maybe we don't have a good seam bowling all-rounder that most teams have. This is an area we should focus on at the U-19 or U-17 levels. It's very important to have pace bowling all-rounders in the team."
Can the Champions Trophy be the beginning for the fantastic five of Bangladesh -- the fifth member being captain Mashrafe Bin Mortaza -- to achieve something very big.
"Why not?" Tamim retorted.