Bangladesh delicately placed in ICC ODI rankings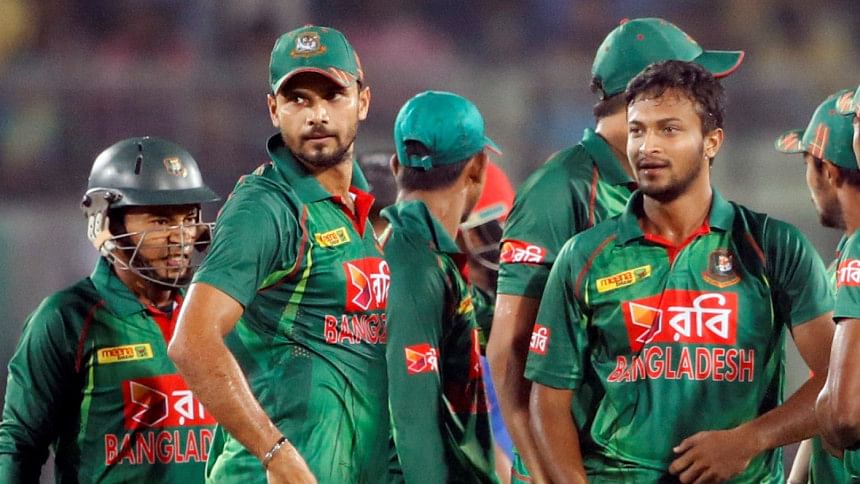 As the cut-off date for direct qualification for the 2019 ICC World Cup draws closer, Bangladesh have conceded a point in the latest update of ODI rankings.
According to the annual update released by the ICC on Monday, Bangladesh have 91 points and are delicately placed at number seven. They have however widened their gap over eighth-ranked Pakistan from two points to three.
Bangladesh are also not far away from sixth-ranked Sri Lanka, who were sitting pretty on 98 points prior to the annual update but have slid to 93 points to now lead Bangladesh by only two points. West Indies are ranked 9th with 79 points, nine points behind Pakistan.
South Africa and Australia have retained the top two positions. Number-one ranked South Africa has gained four points following the annual update and are now on 123 points, while world champions and second-ranked Australia have stayed on 118 points.
The annual update is carried out to ensure the table continues to reflect teams' recent form with older results being discarded. As such, the table now reflects all matches from 1 May 2014, with matches played from 1 May 2016 carrying 100 per cent weighting.
However, the small difference in points in the middle of the table adds a lot of context, entertainment and excitement to the upcoming ICC Champions Trophy and other matches up to 30 September since performances during this period could help sides to qualify directly for the ICC Cricket World Cup 2019 rather than having to progress through the ICC Cricket World Cup Qualifier 2018.
Rank    Team               Points
1.     South Africa      123 (+4)
2.     Australia           118 (-)
3.     India                 117 (+5)
4.     New Zealand     115 (+2)
5.     England            109 (+1)
6.     Sri Lanka          93 (-5)
7.     Bangladesh       91 (-1)
8.     Pakistan           88 (-2)
9.     West Indies       79 (-4)
10.  Afghanistan       52 (-)
11.  Zimbabwe         46 (-2)
12.  Ireland              43 (+1)