Team Bangladesh clinches first place out of 174 nations in 'First Global Challenge' robotics competition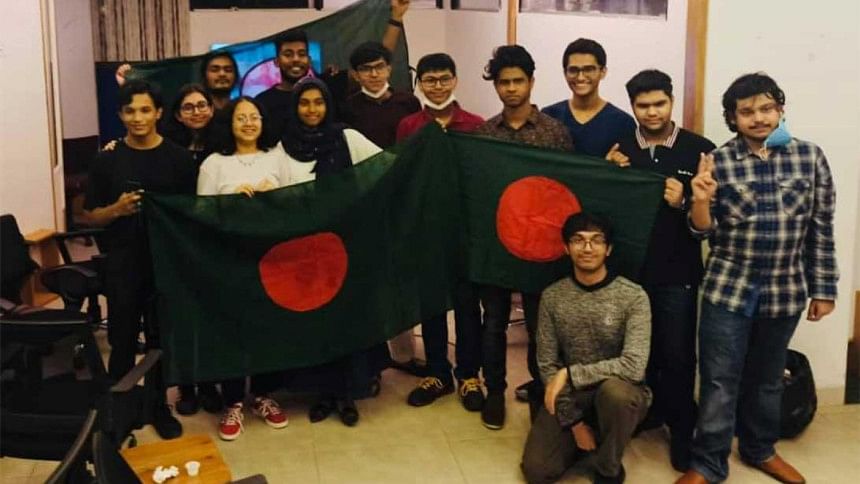 Team Bangladesh has become the champion among 174 countries in a robotics competition titled 'First Global Challenge' for school and high-school students.
Confirming the achievement to The Daily Star, Kamrul Hasan, professor of physics department of Dhaka University, said, "The final results of the competition were announced around 9:00pm yesterday night."
Team Bangladesh became the champion with 117 points, while Chile came second and Algeria were named third, he said, adding that team India became fifth in the competition.
The DU teacher said that from July 1 to September 25, team Bangladesh was at the top of the points table all throughout the competition except for one week, after going through various stages and challenges.
Prof Kamrul said, "Our youngsters have done well in Math and Physics Olympiads as well."
With an aim to make students keen in Science, Technology, Engineering and Mathematics, the competition is organised every year so that ninth to twelfth grade students can take part in an international robotics competition. The event is also widely known as the 'Olympics of Robotics'.
In 2016, the first edition of the competition was held in the United States. The second event was held in Mexico in 2016, and the third event was held in Dubai in 2019 while this year, the fourth edition of the First Global Challenge, has been held virtually due to the global coronavirus epidemic.
Shams Jaber was the chief advisor of the team, Shoaib Mirza was the technical consultant while Fardin Ananta was the assistant consultant of Bangladesh team.