Yaba trader killed
Munshiganj cops claim of gunfight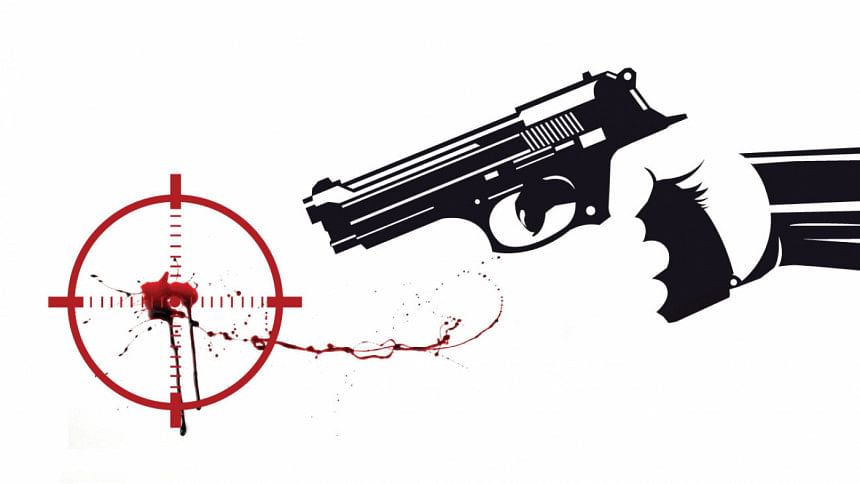 An alleged yaba trader, who was wanted in at least 12 cases, including those of possessing arms and narcotics, and robbery, was killed in a "gunfight" with police in Munshiganj Sadar Upazila early yesterday.
The dead, Saiful Islam alias Baba Arif, 37, was a close associate of top-listed criminal Tofayel Ahmed Joseph and was involved in narcotics trade for a decade, according to police.
Arif is known as a notorious criminal in his native village at Panchashar Union Parishad in Munshiganj. He was involved in mugging, dacoity and narcotics trade, reports our Munshiganj correspondent quoting police.
Tofayel Joseph, one of the "top-listed criminals of the 1990s", is now in jail after the Supreme Court on December 9, 2015, commuted his death sentence to life imprisonment for killing Freedom Party Leader Mostafizur Rahman Mostafa in 1996.
"Arif walked out of Keraniganj Jail on bail faking documents just two weeks ago. He spent around Tk 5 lakh for the arrangement," said a top official of Counter Terrorism and Transnational Crime (CTTC) who had been on a hunt for Arif since his name surfaced as a yaba trader.
"We got some names of people who have helped Arif in the process of obtaining bail by faking documents. We will bring them to book," the official said, requesting anonymity.
According to police sources, Arif took shelter in the capital's Mohammadpur initially after getting bail, though he began his involvement in the regular illegal business again.
Based on information, a team of Munshiganj police arrested Arif around 10:00pm on Wednesday from Durgabarai area of Munshiganj while he was waiting to deliver a consignment, Gazi Salauddin, inspector (investigation) of Munshiganj police station, told The Daily Star.
Two of his associates, however, managed to flee from the spot, he said, adding that police recovered 110 pieces of yaba pills from his trouser pockets.
"As Arif was also wanted in arms cases, we interrogated him about it and he gave us a location in Gajarikandi village," said Salauddin.
When police was going to raid the village around 2:30am with Arif, his associates stopped them in Katakhali area and a "gunfight" ensued as the miscreants began firing, forcing police to retaliate, he said.
Arif came in the line of fire and the duty doctors declared him dead after he was rushed to Munshiganj General Hospital for treatment, added Salauddin.
Police also recovered a pistol, two bullets and two sharp weapons from the spot.
Searching the Crime Data Management System (CDMS), police found that Arif was wanted in at least 12 cases, said Inspector Salauddin.
Arif was arrested by police a number of times but he managed to get bail.
On March 10, a team of Narayanganj Detective Branch of police arrested Arif's wife Sabina Yesmin Runu from Munshiganj.
Just a day before the arrest, the district DB police arrested an assistant sub-inspector of Narayanganj Sadar Model Police Station and recovered 50,000 yaba pills in his possession. The ASI, Suhrawardy Rubel, later disclosed Runu's name as the source of those yaba pills and DB police later arrested her. She is currently in jail.
On the other hand, locals of Panchashar union, upon hearing the news of Arif's death, expressed their joy by distributing sweets.