Villagers kill tiger after it injures 6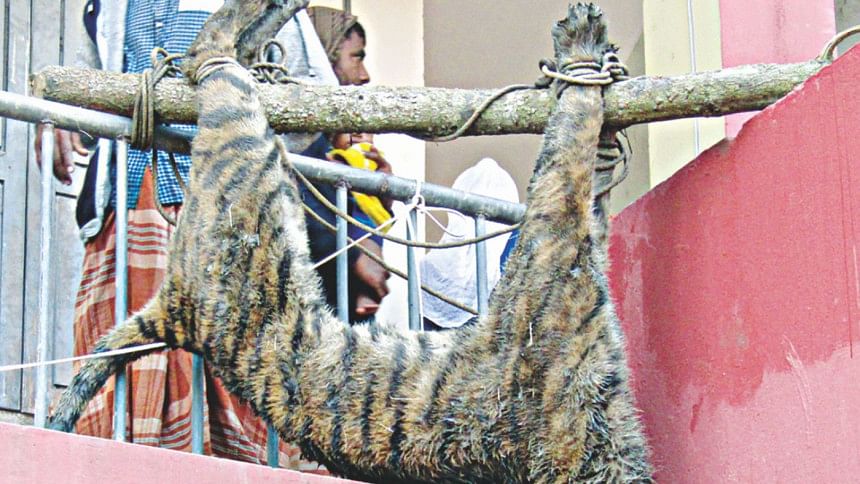 A Royal Bengal Tiger was beaten to death as it entered a village and injured six people in Morrelganj upazila yesterday.
The incident occurred at Gulshankhali village under Nishanbariya union, around six kilometres off the Sundarbans.
The tiger entered a thatched house and pounced on two residents around 6:30am. Hearing their screams, villagers rushed to that house and attacked the tiger. Six people were injured during the fight against the animal.
The injured include Sabbbir Sarder, 22, Alamin Gazi, 25, Sarowar Hossain Dalal, Masum Dalal, 30, and Majibur Sardar. Masum was taken to Khulna in a serious condition, said Mahmudul Hassan, divisional forest officer (DFO), Sundarbans Eastern Division.
For several decades two to three tigers were killed by villagers every year when the animals come to locality in search of food. However, such incidents declined apparently with a decline in the tiger population and it was the first tiger killed by villagers since 2013.
A recent survey says there were only 106 Bengal tigers in the Sundarbans in 2015, down from 440 in 2004. This clearly suggests tiger population has declined drastically in the forest.
An activist of Village Tiger Response Committee, a local body comprising trained villagers to protect tigers from villagers during tiger attack, said they rushed to the village, but it was too late by the time they reached the spot.
On information, Gulishkhali Forest Station Officer Sheikh Khairul Islam reached the spot and took the carcase of a six-foot-long tiger to the Zeaudhara Forrest Camp, Mahmudul said.
He added tigers enter the villages because the adjacent Bhola river has dried up and the animals cannot distinguish between the forest and the locality. When the rivers around the Sundarbans would be properly excavated the problem would be solved, he observed.
"We have already warned the villagers about tigers coming out of the forest. We advised them to move carefully and make noise to send the tigers back to the forest," he said.
Kamrul Hasan, station officer of Chandpai station, said, "Roaming of tigers has increased also in Baidyamari area for a few days. We have alerted the people around the forest in this regard."
He termed it a good sign and claimed the number of tigers is increasing.
However, experts have expressed concerns over the depleting Bengal tiger population in the Sundarbans as the number of tiger attacks in and around the world's largest mangrove forest has gone down significantly in recent years.
They said tigers earlier used to enter nearby populated areas apparently for food, which indicated the forest was in bad health. But only a few tiger attacks were reported in recent months.