Two killed in 'shootouts'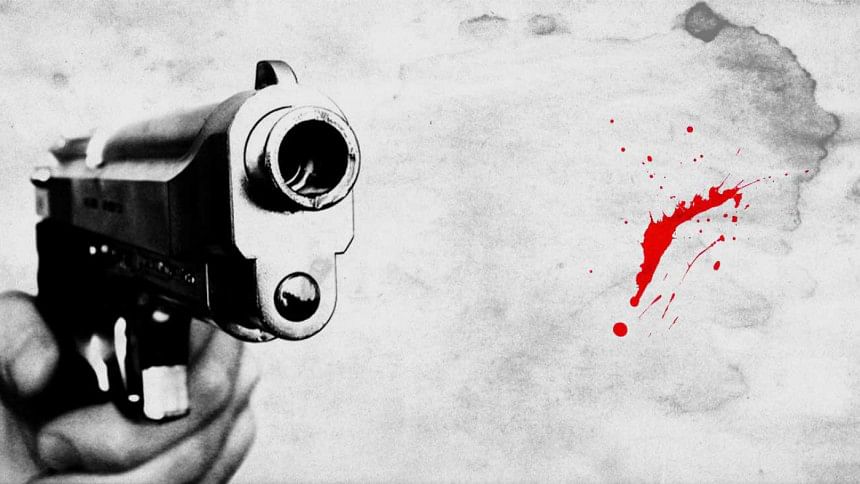 Two people, including a fugitive under death sentence, were killed in "shootouts" between law enforcers and "suspected criminals" in the capital and Narayanganj early yesterday.
In Dhaka, an alleged criminal identified as Lelin, 35, of Shreenagar upazila in Munshiganj, was killed in a "gunfight" with detectives in Khilgaon Nandipara area, Deputy Commissioner (media) of Dhaka Metropolitan Police Masudur Rahman said.
Rahman said police conducted a drive in the area around 3:15am after receiving information that a gang of criminals had gathered there to commit a crime. Sensing the presence of law enforcers, the gang opened fire on police, prompting them to retaliate.
 Lelin got injured during the "gunfight", while his accomplices managed to escape. He was declared dead after police took him to Dhaka Medical College Hospital. Detectives recovered a pistol and four bullets from the spot, Rahman said. 
The police official also said Lelin was an accused in at least 12 cases including for murder and attack on a police team in Gendaria on April 19 that left three policemen injured. He was awarded the death penalty in 2002 in a murder case but has been on the run since.
Lelin had initially fled the country but returned after a few months.
 The deceased in the Narayanganj incident was identified as Raju Prodhan, 25, a member of a mugging gang, Rab officials said.
Maj Manjur Mahede, a company commander of Rab-1, said a Rab team went to 300 feet road area in Rupganj area after receiving information that a gang of muggers had gathered there.
Sensing the presence of the Rab team, the muggers opened fire. The Rab team retaliated for self defence, the official said.
After the fire exchange stopped, Rab informed local police who took Raju to Rupnagar Health Complex where doctors declared him dead, he added. 
At least 70 were killed in "shootouts", and "gunfights" with the law-enforcement agencies this year, according to rights body Ain o Salish Kendra. In the previous year 162 were killed in similar incidents.