The joy of colours
Natural dyes help Netrakona family overcome financial hardship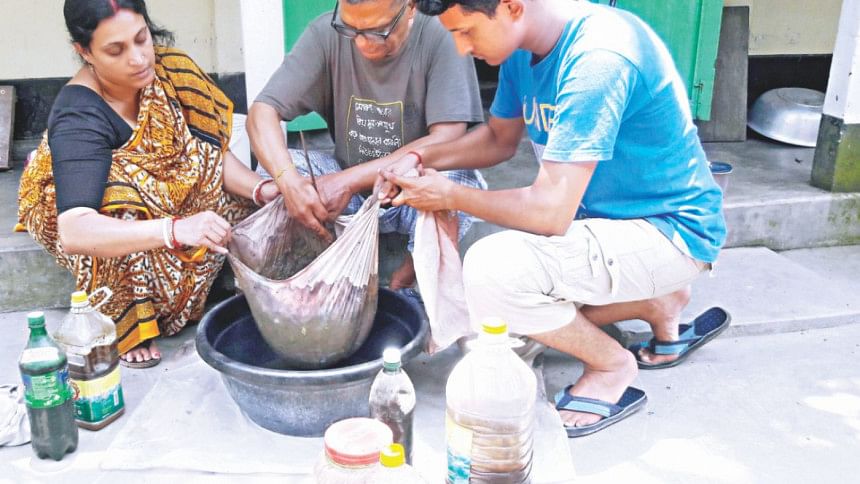 Atanu Patranabish Chhoton, 54, from Boro Pukurpar in Netrakona town, always led an active life. Alongside his pursuit of various careers as family breadwinner, Atanu indulged his flair for creativity at cultural and literary events. But in 2008, he was struck by a motor neuron disease which at first left him bedridden. With the family's economic future bleak, his wife Sheuly Patrabanish had an idea: textiles.
"I graduated from Netrakona Government College in 1990 and went to work in South Korea for several years,"
Atanu narrates. "In 1997, I established a poultry farm, which due to the menace of bird flu didn't last a year. Before I became sick I had a computer business. We also provided internet service."
Motor neuron diseases are rare. They cause the nerves in the spine and brain to progressively lose function, which affects the muscles. There is no cure.
"I couldn't continue the computer business after I fell ill," Atanu recalls. "In 2010, we spent a lot of money on treatment in India but a complete recovery wasn't possible. Still I can't use my hands and legs freely. I need support to walk. And the medical expenses left our family all but destitute."
"It was a dark time," he reflects. "All our hopes were dashed. I wasn't sure I'd survive, and even if I did, I wouldn't be able to work like before. It was then that my wife Sheuly suggested we could establish a textile business. As she knew something about that subject, she thought she'd be able to help."
The couple, who have a son currently studying in class nine, started the new enterprise on a small scale in 2011. But it was three years later, thanks to artist Badal Chakraborty, that they found their niche.
"Badal is my uncle," says Atanu. "He is a graduate of the Fine Arts Institute at Dhaka University and he suggested that we could specialise in natural dyes. I was impressed by his idea."
The artist trained the couple in how to make fabric dyes from vegetables, medicinal plants and seasonal fruits. They found that naturally-dyed fabric was popular in the market for being environmentally-friendly and chemical-free. The endeavour was a first-of-its-kind in Netrakona.
"We use around 40 items to make the natural colours," Atanu explains, "anything from gooseberries to mulberries, the bark of khayer and boron trees, tea, neem and betel leaves, bottle gourd, tamarind, star fruit and pomegranate, even straw. Each colour is processed separately and takes between 24 and 120 hours to prepare."
"We mainly produce shirts, Panjabis, fotuas and women's three-piece suits using the natural dyes," Sheuly says. They also make accessories in appliqué, embroidery and block print, including saris, scarves, nakshi kantha bedspreads and cushion covers.
The business, which currently benefits from a Tk 50,000 loan from the government's youth development department, has done yet more than save the family from financial ruin. The couple have thus far trained 50 women from across Netrakona in dyeing techniques, to work with them.
"It's not only Badal who we must thank," Atanu says. "I have two very supportive friends, Iqbal Miah and Abdus Salam, who really helped us through the worst times."
"We still have cash flow difficulties and I can't run the business year-round," Atanu notes. "If we had greater access to capital on easy terms, we could do even better."
Motor neurone disease is nobody's ally. Atanu's health is likely to continue to deteriorate. But with the family having found its financial feet with natural dyes, there's some reason for optimism. Atanu's family, at the least, is now in a position to weather every storm and not get lost at sea.