Into the abyss of mental illness
Two sisters chained for 10 years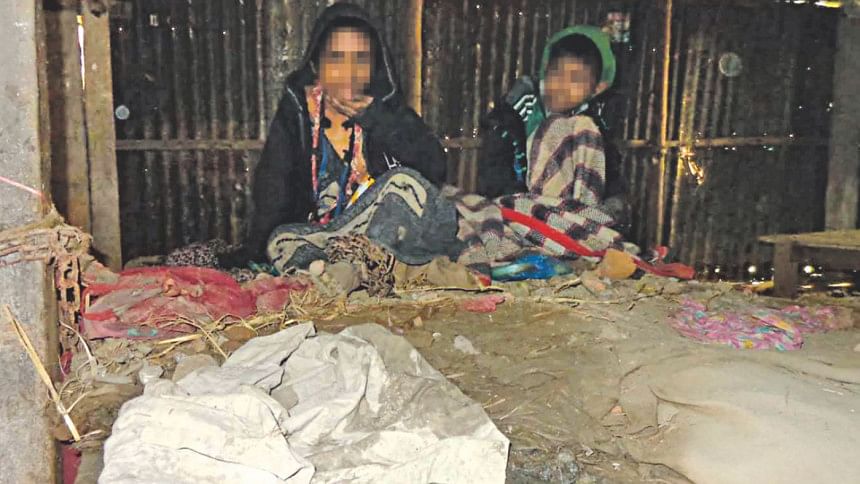 Mental illness is a significant challenge for any family, but for a struggling rural family it can be truly catastrophic. In circumstances where treatment options are out-of-reach, families are left without any support in care provision. The results can be utterly devastating. In Adarvita village in Jamalpur's Madarganj upazila, mentally ill sisters Papri, 33 and Ananya, 30, have lived in chains for almost a decade.
"Papri first became mentally unwell in 1999, when she was studying in class eight at Adarvita High School," explains neighbour Santeza Khanom, an assistant teacher of the school. "Ananya fell ill in 2001, when she was in class six at the same school. Due to mental instability, neither could continue their schooling."
Although he tried, their father Abdul Mannan was unable to provide adequate psychiatric help for his daughters due to his limited income, from a low-level government job and three bighas of farmland. Moreover, he suffered a stroke in 2002 that plunged the family into an abyss of financial hardship.
From then on, the girls' mother Shahina Parvin single-handedly struggled to support her now-paralysed husband, two mentally ill daughters and two young sons, Samrat and Pathik.
"It was challenge enough for Shahina to put food on the table," says neighbour Nazma Rahman, a primary school teacher. "Treatment was altogether beyond their reach."
Without psychiatric help, the girls' conditions deteriorated until, at one stage, they were entirely unmanageable.
"The two of them started wandering here and there around the locality," says Nazma. "The parents were frantic with worry about their security, knowing that anybody might harass the girls. Ultimately they found no other way to avoid some embarrassing situation than to chain them."
At the time, in 2007, Papri was 23 and Ananya was 20. Since then, the two have been confined in unhygienic conditions, in a dirty, stinking room within the family's basic household. Day after day holds nothing for them but torment and repetition.
"In 2010 their father Mannan died," says Nazma. "Shahina, feeling unable to cope, was gripped by depression. Later the mother became physically sick in addition to her mental anguish and in 2013 she, too, died."
That left responsibility for the girls' care to their younger brothers, Samrat and Pathik, who were just 15 and 11 years old at the time. "Their situation is horrific," Nazma says.
Since then, Samrat has done his best to provide for the family. "I really struggle to keep the four of us alive," he says. "I do farm work as well as the household chores like cooking. With the income from our land I can't even manage good food for my sisters or proper nursing. I am trying to pay for my younger brother Pathik's education."
"It's beyond my capacity to help my sisters back to health," he continues. "I wish some kind-hearted individual or institution would take the initiative in this regard. Those who are sick can return to health even my sisters, whose current feeble state is the result of both mental illness and malnutrition."
"If fortune never comes to smile upon them, and our family, I will continue with my plan to have Pathik complete his science education so that hopefully he can become a doctor. Then one day on behalf of all of us he might be able to serve other devastated families like ours."