Swiss president lauds progress in Bangladesh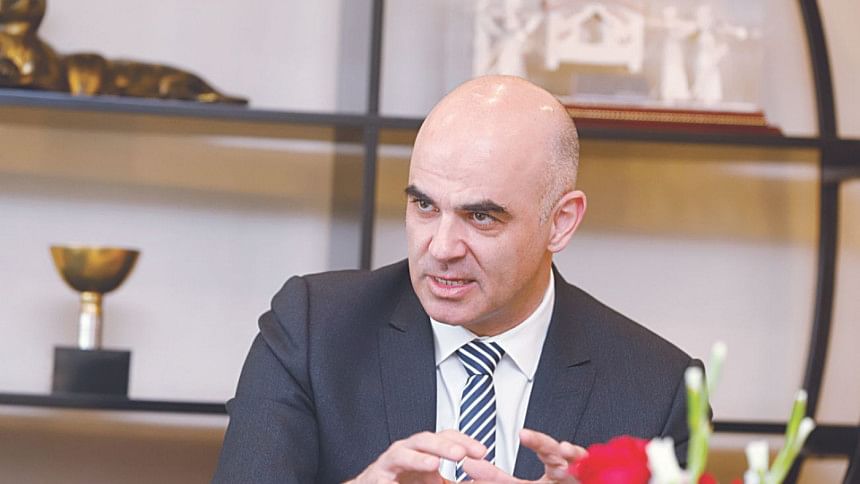 Swiss President Alain Berset has stressed the need for ensuring socio-economic development in Bangladesh in a "sustainable and inclusive" manner so that nobody is left behind.
"Bangladesh's socio-economic development in recent decades has been impressive," he told The Daily Star and three other media outlets in an interview prior to wrapping up his four-day official visit to Bangladesh yesterday.
He hoped that there would be peace, democracy and elections in Bangladesh to continue its economic progress.
"We agreed to seize new opportunities for cooperation and take the bilateral relationship to a new level," he said, adding that his country would continue to support Bangladesh's development with targeted interventions to support poor, marginalised and vulnerable people.
Berset said particular focus would be on stronger social inclusion, economic development, governance and safe migration. Switzerland also cooperated closely with the Bangladesh government and the civil society in the areas of democracy, human rights and the rule of law, he added.
"Our cooperation with Bangladesh in various socio-economic endeavors has been very good. The 2030 Agenda provides opportunities to further strengthen cooperation between Switzerland and Bangladesh."
Asked about his visit, the Swiss president said it was very successful and he was touched by the warm welcome he received. "There is willingness on both sides to enhance and deepen the longstanding and committed friendship between our two countries."
After arriving here on Sunday, the Swiss president had meetings with President Abdul Hamid, Prime Minister Sheikh Hasina, Speaker Shirin Sharmin Chaudhury, representatives from the civil society and businesses. He visited Rohingyas at the Kutupalong camp in Cox's Bazar on Tuesday.
Prior to leaving Bangladesh at 1:00pm yesterday, he visited the Dhaka Art Summit at Bangladesh Shilpakala Academy.
About the Rohingya issue, Berset said the needs in the camps were still enormous as he saw at the Kutupalong camp. "I am especially concerned by the risks faced by the most vulnerable groups. Protecting those in need is the absolute priority. I am also worried about the impending cyclone and rainy season."
He said a high degree of preparedness was needed to avoid any disaster. He called upon all humanitarian and development actors in Bangladesh to extend their programmes to the refugees and host communities.
On the investment climate, Berset said he welcomed Bangladesh's efforts to improve the investment climate and its respect for social, environmental and labour standards as well as legal security.
"I am confident that our economic relations will continue to grow," he said, adding that Swiss businesses could become a provider of technical solutions to Bangladesh, for example in new areas of economic cooperation such as clean-tech and renewable energy.
The Swiss president said he spoke to representatives from some Swiss companies operating in Bangladesh as well as to members of the Bangladeshi business community to learn more about the country's trade and investment scenario.
The Bangladesh-Switzerland trade has more than doubled since 2010. Swiss companies have investments in pharmaceuticals, chemicals, agro-food and construction industries while new investments are in pipeline, he added.
Berset said small and medium-sized enterprises, which form the backbone of Swiss companies, were also gradually becoming interested in Bangladesh. However, he said challenges such as infrastructural limitations, and regulatory issues still remain.
About the bilateral relations, he said development cooperation had been a pillar of Switzerland-Bangladesh partnership, but his country was seeing positive trends in terms of bilateral trade and investment, and the importance of political relations was also growing.