Reducing Maternal Mortality
Still long way to reach target
Experts at Star-UNFPA roundtable stress professional midwifery to prevent deaths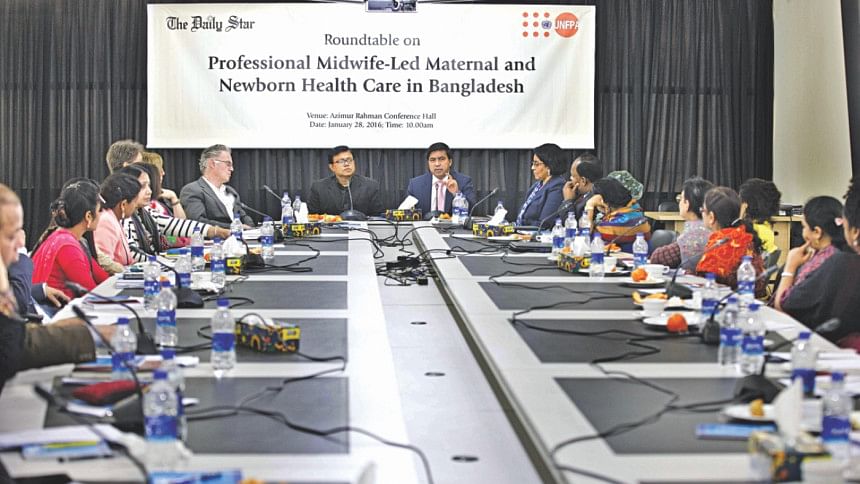 Over 8,31,000 stillbirths, 5,000 pregnancy-related deaths of women, and 76,000 neonatal deaths occur every year in Bangladesh, according to UNFPA.
With a maternal mortality rate (MMR) of 170 per 1,00,000 live births (stats of 2013), Bangladesh still has a long way to go to reach the Sustainable Development Goal for MMR to 70 per 1,00,000 live births by 2030.
According to health experts, many of these deaths could be prevented by professional and educated midwives, who could provide 87 percent of needed essential care for women and newborns in an enabling environment.
In Bangladesh, 3,000 posts for midwives have been created at government facilities and already 600 trained and certified midwives have been deployed at upazila health complex and union level sub-centres.
Yet, challenges remain in ensuring quality education, monitoring of performance of the midwives, and ensuring an enabling environment for them to provide service and making it accessible to the rural community, observed speakers at a roundtable held at The Daily Star Centre yesterday.
Officials and professionals from the health ministry, local medical and nursing bodies, international development organisations and NGOs took part in the event titled "Professional Mid-wife led Maternal and Newborn Health Care in Bangladesh", which was jointly organised by The Daily Star and United Nations Population Fund (UNFPA).
Though a three-year diploma course on midwifery was on offer at 38 government institutes and 14 other private organisations run by Brac and other NGOs, deployment of midwives to rural health centres remain a challenge because of the centres' decrepit state, said Goutam Aich Sarker, joint secretary (Nursing) of the health and family welfare ministry.
"The maternal and labour ward is the most neglected ward in Dhaka Medical College Hospital, the country's largest medical facility," said lawmaker Habibe Millat, adding, "Under such circumstances what can we expect in rural community clinics?"
Millat said without increasing the health budget, currently just one percent of the GDP, it would be very difficult for Bangladesh to achieve its goal. 
Luc de Bernis, consultant of International Confederation of Midwives (ICM), said the health minister on Wednesday asked the ICM and the UNFPA to pilot the implementation of Midwifery Services Framework (MSF) in Bangladesh with the aim to ensure that newly trained midwives would be able to work in an enabling environment.
Noting the importance of midwives, Frances Ganges, president of ICM, said women everywhere in the world want respectful and trustful care, which could be provided by properly educated midwives.
She also emphasised on maintaining global standards in midwifery education and implementation of MSF.
UNFPA Country Representative Argentina Matavel Piccin talked about Brac and GIZ's efforts in training midwives and thanked donors including the Department for International Development (DFID), UK, and the Canadian, the US, and Swedish governments and Korean International Cooperation Agency (KOICA) for supporting the government on this issue.
Momena Khatun, senior health adviser of Global Affairs Canada, Canadian High Commission, stressed the need for follow-up and assessment of the midwife graduates once they were deployed. She also talked about building awareness at the community so that people avail maternal health services from institutional facilities.
Observing that the faculty members of the three-year midwifery diploma programme of the government were nurse-midwives, Ahn Eun-Young, health specialist of KOICA, said that teachers should have a formal preparation in midwifery through a post-graduate degree programme.
The KOICA is currently establishing the National Institute of Advanced Nursing Education and Research, the first master's degree programme in nursing in the country in collaboration with the Directorate of Nursing Services (DNS) and the Ministry of Health and Family Welfare, she added.
This would help produce competent faculty members for the diploma programme, she hoped.
"You need to listen to mothers with all your heart," Rowshan Ara Begum, president of Obstetrical and Gynaecological Society of Bangladesh, told the young midwives present at the programme highlighting the responsibility of the professionals. She also called for putting in place a monitoring mechanism of health providers including midwives.
Md Shajedul Hasan, joint secretary of Human Resource Development Unit of the Ministry of Health and Family Welfare, said a career path for the midwives was required.
"We need continuous in-service training as well as assurance of safety and security at our posting location," said Tania Akhter, a recent graduate of the midwifery diploma programme.
Salma Khatun, a certified midwife working at an upazila health complex in Satkhira, said counselling of the pregnant women as well as their families should be included in the curriculum to encourage people to avail maternal health services from educated midwives, thus reducing risks of death.
Halima Akhter, president of Bangladesh Midwifery Society, talked about the lack of teachers and also the positions of the current teachers who were midwife nurses.
"If we are not recognised and respected as lecturers, how can we teach our students about providing respectful care?" she asked, highlighting the importance of incentives for the teachers.