Sonargaon Economic Zone: Injunction there, so is violation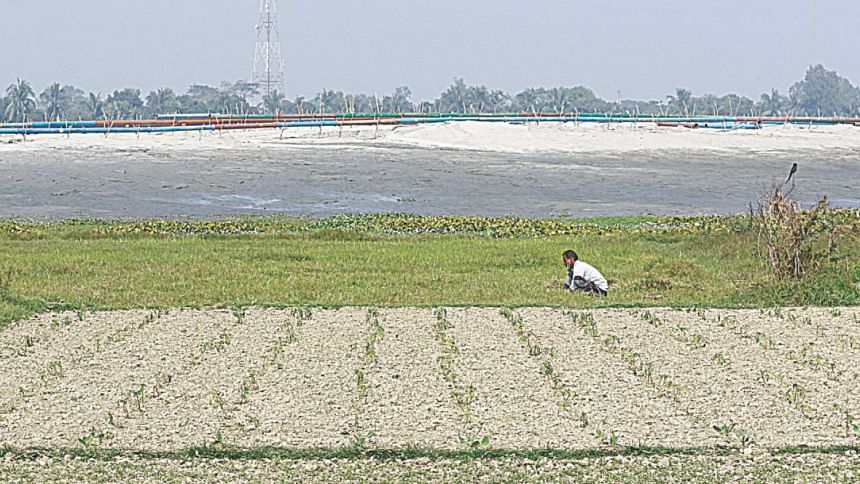 The woes of 12,000 villagers on the Meghna in Sonargaon are not likely to lessen despite the highest court's ban against damaging their ancestral agricultural land.
A private business conglomerate began indiscriminate filling of the high-yield arable land and part of the river in Kandargaon in defiance of a 2004 High Court ban, alleged the villagers.  
The company, Unique Group, resumed filling the land with sand with nearly two dozen unloading dredgers on December 6 to make way for a private economic zone styled Sonargaon Economic Zone, the villagers said on December 8 when this correspondent visited the village.
At least two metal pipes of the unloading dredgers were found dumping sand on the farmland while over a dozen others were being laid in Birashergaon, Bhabanathpur, Ratanpur and Jainpur. 
With the ongoing legal battle awaiting a verdict at the HC, Unique Hotel and Resorts Ltd of Unique Group, in defiance of the HC ban, resumed dumping sand on agricultural land taking advantage of the court being on vacation, said Enayet Ullah Mollah, who is organising the affected locals for protecting their land.    
The villagers were unable to cultivate winter crops this season, he said.
A number of villagers said they did not cultivate winter crops this year fearing their land would soon be covered by sands.
On January 1, Mollah said half of the total 22 unloading dredgers were dumping sand on the farmland and the rest in the adjoining Meghna.
During a subsequent visit on January 9, however, sand dumping was seen to have been halted with the metal pipes lying idle all around the site. The same was seen during a revisit on February 18. 
Meanwhile, around half a kilometre stretch of the farmland from Charbhabanthpur graveyard to Hijaltala Beel across Ratanpur and Jainpur moujas was filled.
"The government often talks of agriculture as the backbone of a country's economy and food security but in reality they hardly take any action to protect agricultural land," said Abdul Halim, an expatriate villager who returned home six months ago. 
"Who can save us, when the highest court is ignored?" he asked.
Prime Minister Sheikh Hasina at a meeting of the International Fund for Agricultural Development in Rome on February 13 called upon the development partners to invest in sustainable rural economies to ensure resilience to agricultural crisis.
In her keynote speech, she referring to Sustainable Development Goals said that inclusive and sustainable rural transformation holds the key to eliminating poverty and hunger.
At the annual meeting of the World Economic Forum in Davos on January 18 in 2016, she called upon the world community for greater emphasis on agriculture for food security to reduce risk of lives and livelihoods of farmers, fishermen and women.
In late April 2016 at the Krishibid Institution in Dhaka, Hasina said her government would not allow indiscriminate industrialisation destroying cultivable land and forests.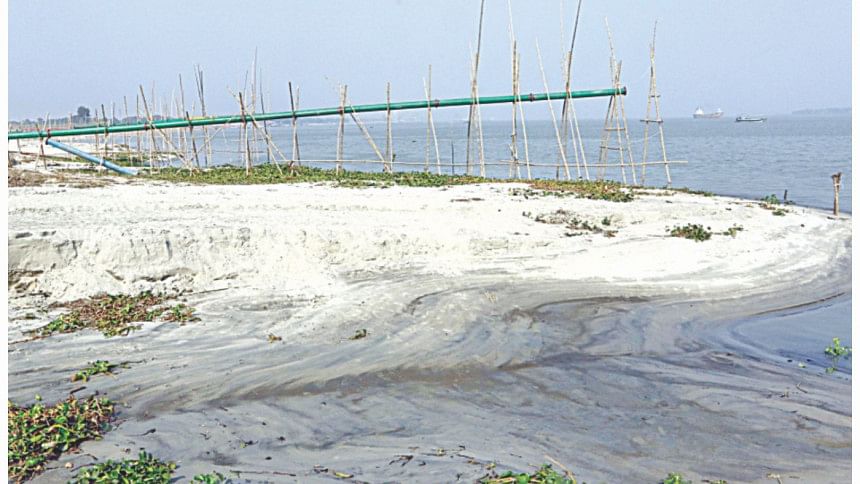 According to findings from Bangladesh Bureau of Statistics, the country is losing agricultural land at a rate of around one percent every year and is feared to lose a third of its agricultural land in next 25 years unless the trend is halted. 
Villagers like Abdul Khaleq, Rongmala Begum, Yusuf Ali and Raja Miah said over 12,000 inhabitants of 10 villages in six moujas solely depend on agriculture for their life and livelihood. 
They grow crops like paddy, jute, chillies, oil seeds, tomatoes, peas, sesame, carrot, pulses, onion and winter vegetables and during monsoon they catch fish on the same land, they said.
"With our farmland ruined, we are going to lose our ancestral livelihood and homesteads and be displaced," said Khaleq, an elderly local.  
There are 11 government schemes to cultivate IRRI rice in 1,500 bighas of land from a total of 2,350 bighas of agricultural land in six moujas but nine of them are already damaged due to sand dumping and two on the brink of being ruined, said Mollah.     
During a visit to the site on January 9, villagers said the sand filling stopped on January 2 (when the HC vacation ended). A villager was killed the following day over a feud between two contending parties over who would have the contract for the sand filling.  
Mohammad Noor Ali, managing director of Unique Group, said, "Nothing like earth filling is happening there. We have just lined up sand unloading pipes so we can immediately start filling up work if the court verdict goes in our favour."
The execution of the 2004 ban is vested with Narayanganj district administration. A HC bench concluded hearing of the case on October 20 last year and the verdict could be delivered any day.
Rabbi Miah, deputy commissioner of Narayanganj, said he was informed by the upazila nirbahi officer that earth filling remained halted. Pointed out that the dumping went on for a month, he said, "I will check with Sonargaon UNO again." 
Noor Ali said they have purchased 360 acres of farmland in the said moujas to set up the economic zone.
Meanwhile, land ministry in late May last year gave the company the approval to procure and hold the said amount of land.
Though the environment department has accepted an environmental impact assessment report on the proposed scheme, it is holding back a mandatory environmental clearance citing the case with the HC and a subsequent contempt charge in this regard.     
A field inspection report of the Department of Environment in late December said Unique has filled an estimated 500 decimals or 217753 square foot area of farmland. The 71 acres filled up earlier remains unchanged. Around a dozen unloading dredgers were seen working there.    
"Instead of restoring farmland and river wetlands filled up earlier to their original state in keeping with the HC order, the entrepreneur company continued filling up fresh area of farmland and low-lying wetlands," says the government report. 
Syeda Rizwana Hasan, chief executive of Bangladesh Environmental Lawyers Association (BELA), said the earth filling despite the ban is disrespecting the legal process and an attempt to frustrate the judicial proceedings. 
And the land ministry's endorsement was in contravention of the agricultural land reform ordinance and the deputy commissioner had
bypassed the scrutiny of agricultural nature of the land while the matter was under trial, she said. 
Back in 2009, Unique Group with its company Unique Property Development Ltd embarked on a massive earth filling in a part of the Meghna, adjoining low-lying wetlands and agricultural land in the six moujas -- Jainpur, Chaihishya, Char Bhabnathpur, Bhatibanda, Pirojpur and Ratanpur -- to make way for the Sonargaon Resort City.        
In the face of a hefty penalty slapped by environment department in 2011 for causing colossal damage to agriculture, environment and marine ecology, the developer stopped the move only to return within a couple of years and this time giving the company a different name.
Following a public interest litigation by BELA, the HC in March 2014 banned destruction of these ecologically-sensitive agricultural land to prevent any further damage to the villagers so largely dependent on agriculture. The court also ordered the developer to restore the arable land to their original state.