Siddiqur given job at a govt pharma co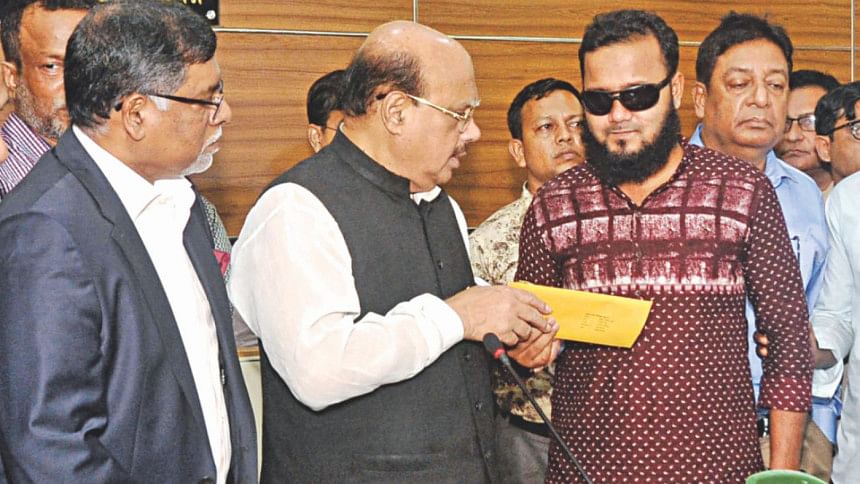 Titumir College student Siddiqur Rahman, who lost his eyesight in police action in Shahbagh on July 20, has been given a job at a government pharmaceutical company.
Health and Family Welfare Minister Mohammed Nasim handed over the appointment letter to Siddiqur at a programme in the conference room of the ministry yesterday.
According to the appointment letter, Siddiqur will join Essential Drugs Company Limited as a telephone operator at its admin and HRM department on October 1. He has been appointed temporarily for a year.
Siddiqur's monthly salary would be Tk 13,000 along with other allowances.  If the job is made permanent after a year, the monthly salary would be Tk 23,000.
Speaking at the programme, the health minister said, "The incident was very sad and painful. We are happy to give Siddiqur a job keeping our commitment. The government will take care of him."
Nasim said the government tried its best to help Siddiqur get back his eyesight.
Siddiqur cannot see with his right eye. He perceived little light after the bandage of his left eye was removed on August 5 after a surgery at Sankara Nethralaya in India's Chennai, according to doctors.
He was sent to India for eye treatment on July 27 as per the directive of Prime Minister Sheikh Hasina, and the health ministry arranged his treatment.
After receiving the appointment letter, Siddiqur said, "Earlier, I had many dreams. But now it is wise not to think about those. My world is really different now."
"I will try to move on. Let's see how far I can go," he said, thanking the PM, the health minister, journalists, doctors, his teachers and friends for their support.
He also said he would continue his studies alongside the job.
State Minister for Health and Family Welfare Zahid Maleque, Director General of Directorate General of Health Service Prof Dr Abul Kalam Azad and Directorate General of EDCL Ehsanul Kabir Zuglul, among others, were present at the programme.
Siddiqur, a third-year student of political science, was injured when a policeman lobbed a teargas canister directly at him during a demonstration of the students of seven Dhaka University-affiliated colleges at Shahbagh on July 20.