She's a superhero
Dwarf by birth, divorced for dowry, but she stands tall with sheer determination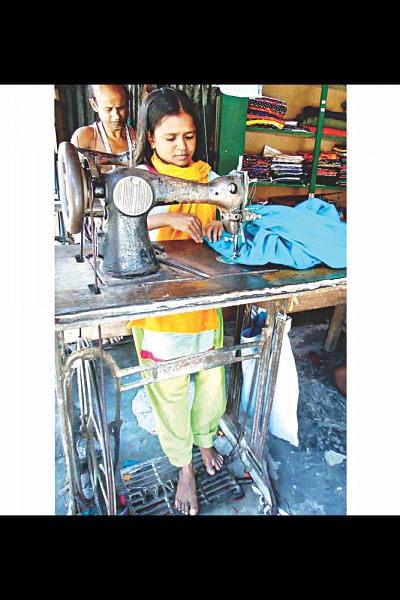 Jobeda isn't the only woman whose husband divorced her when her father couldn't pay the full dowry. Nor is the 32-year-old tailor from Majhipara in Gaibandha's Shaghata upazila alone in struggling to make ends meet. But thanks to dwarfism, a most-often genetic condition that can also be caused by growth hormone deficiency, Jobeda is a mere 3.2 feet tall. Her stature destined her for a childhood that was particularly unpleasant.
"In the village and especially at school I suffered a lot," Jobeda says. "The neighbours' children and classmates often teased me about my height. They used to call me 'pigmy'." The taunts were so hurtful and persistent that by the time Jobeda reached class seven at Etakuri High School, the eldest of five siblings felt she couldn't study any more.
Thus in 2011, when her father, farm-labourer Jabed Ali, was able to arrange her marriage to neighbour Azam Ali, Jobeda hoped for better days. The father promised to pay a Tk 20,000 dowry, with Tk 3,000 given on the wedding day; the remainder to be paid after twelve months.
Unfortunately, shortly after the wedding Jabed Ali fell seriously ill. He required surgery which cost around Tk 30,000. The family was financially devastated.
Meanwhile Jobeda's husband along with her father-in-law pressed for the remainder of the dowry. They started to mistreat her, the marriage unravelling towards divorce.
In an attempt to ameliorate the situation and save her marriage, Jobeda approached master tailor Nurul Alam in nearby Jogypara village to ask if she could work as an apprentice. He agreed, and she started to earn around Tk 30 per day which she duly handed to her husband.
But his family couldn't be placated. The treatment meted out to her worsened.
"Three years ago my husband divorced me," she says, "only because of the dowry."
With some tailoring experience under her belt, Jobeda then took a new job at Azibor Rahman's fabric shop in Munshirhat. Working the sewing machine while standing, she earns up to Tk 80 per day with which she helps support her parents and two youngest brothers.
"My father can't work anymore," she explains. "My mother works as a maid. It's my responsibility to look after them. I don't want to re-marry. I want to stand on my own."
Determined Jobeda is largely satisfied with her current job; both her boss and the customers treat her well. "As an employee, Jobeda is very polite and dedicated," says the tailor, Azibor. "What draws the customers' attention is her always-smiling face."
"My current boss extends every possible help to me," says Jobeda. "Moreover the customers ask for me specifically when placing orders since they know I take care with my work."
She dreams that one day she might have her own sewing machine, since at the moment she rents one. Beyond that, any chance to work in the garments industry appeals to her.
About her life, Jobeda is philosophical. "It's true that because of dwarfism I can't always work in the usual way. But I'm determined to turn my circumstances to my favour. If I have to stand to sew, I will."
She says that neighbours who know her well still sometimes joke about her short stature but that it hardly bothers her now. "To anyone who has dwarfism or is otherwise a little different I would say this: take the matter easily. What can seem like a disaster really isn't. Just about anyone can find a way to build a life for themselves."
Shaghata upazila's social welfare officer Abu Sufian says he is aware of Jobeda's circumstances and hopes to organise her pension card when next he visits her home.