Saving crops from pests
Tangail farmers introduce bagging technique in vegetables farming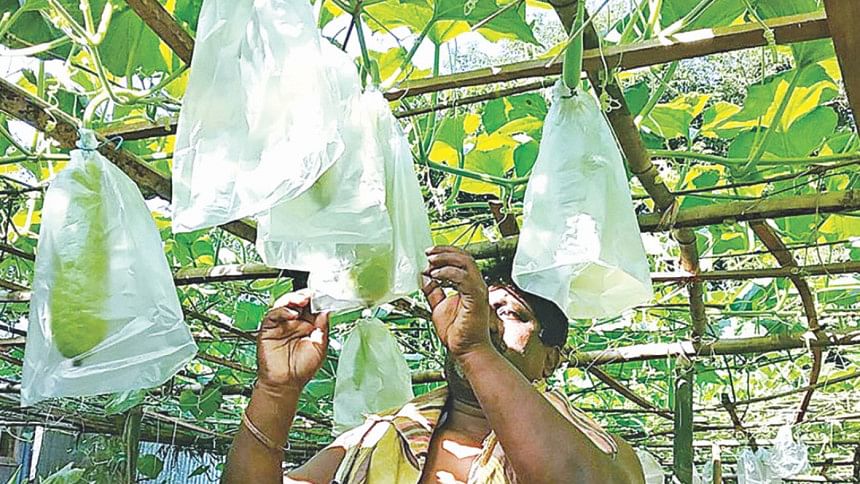 Nationwide, for some years now, farmers have been using bags to protect ripening fruits, including mangoes, guavas, litchis
and
papayas. In Tangail, the same technique is being enlisted to protect vegetable crops from pest attack.
Lovely Begum from Goalpara village in Tangail Sadar upazila's Dynna union specialises in growing bottle gourd vines on a raised trellis. "Since I started bagging the gourds I've really benefitted," she says.
Covering new gourds with polythene bags immediately after budding, farmers can save up to 80 percent of a crop from pest damage, including from that perennial menace, the fruit fly.
"Many farmers in this area now use the bagging method for vegetables," says Lovely's farmer neighbour Tulah Miah. "We are happy with the results and hope to continue using bags for our crops in the future."
Bagging has several benefits. By reducing the need for pesticides, bagging lowers farming expenses. It facilitates a more chemical-free, organic crop that is healthier for consumers. The bags, which can be re-used several times, create a more constant temperature around the maturing vegetable that expedites growth; and as bagged vegetables tend to retain their colour, higher market prices are achievable.
"Farmers in different areas of Tangail have taken to using the bagging method," notes Osman Gani, the sub-assistant agriculture officer in Sadar upazila.
"While bottle gourds are at the forefront of bagging for vegetables in Tangail," he adds, "the method can also benefit other crops including wax, snake, sponge and bitter gourd, as well as cucumber and pumpkin."