RP Shaha Kidnap, Killing: The details 'untangled'
War crimes investigation agency recommends trial of one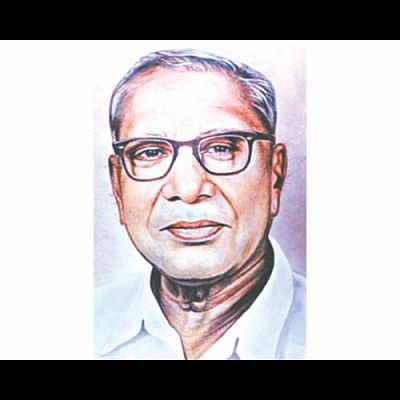 The investigation agency of the International Crimes Tribunal has found significant evidence that a Tangail man was involved in the abduction and killing of philanthropist Ranada Prasad Shaha, and his son Bhabani Prasad Shaha during the Liberation War in 1971.
Mahbubur Rahman, 69, of Mirzapur in Tangail, was also involved with abduction and killing of 60 other people in Tangail and Narayanganj during the war, investigators said.
They had recorded statements of 60 people.
Agency's Coordinator Abdul Hannan Khan and Co-coordinator Sanaul Huq revealed the information at a press conference at its Dhanmondi office yesterday.
Mahbubur was arrested on November 7 last year and is now in jail. The Jamaat adherent ran for chairman of Mirzapur Union Parishad as an independent candidate thrice but was beaten, they said.
Ataur Rahman, investigation officer of the case, handed over the probe report and other documents to the Chief Prosecutor's Office. Now, the prosecution would scrutinise the documents and if satisfied, would press charges.
Agency Coordinator Hannan said Mahbubur's late father Abdul Wadud alias Wadud Moulana was the chairman of Mirzapur Peace Committee, an anti-liberation organisation, while he and his brother (now dead) were involved in Razakar Bahini in 1971.
During the one-and-a-half-year probe, they found evidence of Mahbubur being involved in abduction, killing, arson and acts of genocide during the war, Hannan said.
He said there was a growing demand for the investigation into Ranada Prasad Shaha's, also known as RP Shaha, abduction and killing and agency was successful to "unearth the facts".
Agency official Sanaul Huq said the Pakistan army detained RP Shaha and his son Bhabani Prasad on April 29 for interrogation and kept them confined to Mohammadpur Physical Training Centre until May 5 of 1971.
That very day, in presence of Mahbubur and his brother Mannan, the Pakistan army raided Kumudini Complex in Mirzapur to kill RP Shaha, Sanaul said.
Failing to find him there, they harassed and humiliated the doctors of the Kumudini Hospital and teachers and students of Bharateswari Homes, he said.
Both the organisations were founded by RP Shaha.
Around 10:00pm the same day, Mahbubur, along with local Razakars and some 20 to 25 Pakistan army men raided RP Shaha's home in Khanpur of Narayanganj. They abducted him, his son, his associate Gour Gopal Shaha, and four others and took them to Adamjee Burma Eastern Oil Depot, Sanaul claimed.
Later, they were killed and their bodies were dumped in the Shitalakkhya, said Sanaul, adding that their bodies were never found.
RP Shaha, born on November 15, 1896, had success as a businessman. He placed all his companies and businesses in a trust to use the proceeds for public welfare.
Kumudini Welfare Trust of Bengal thus came into existence, according to the trust's website.
RP Shaha established a hospital in remote Mirzapur to provide free healthcare. The philanthropist founded several educational institutions, including the renowned Bharateswari Homes for girls.
OTHER WAR CRIMES
Sanaul said in presence of and with the assistance of Mahbubur, his father and brother, Pakistan army men carried out an attack on Shahapara in Mirzapur that left 33 Hindu men dead on May 7.
On May 15, 1971, Mahbubur and his father along with 15 to 20 Razakars picked 24 Hindu men from different villages in the upazila, Sanaul said.
Later, Mahbubur handed them over to the Pakistan army who tortured 22 of them to death, he added.