Revive Middle East peace process
President Hamid urges at OIC meet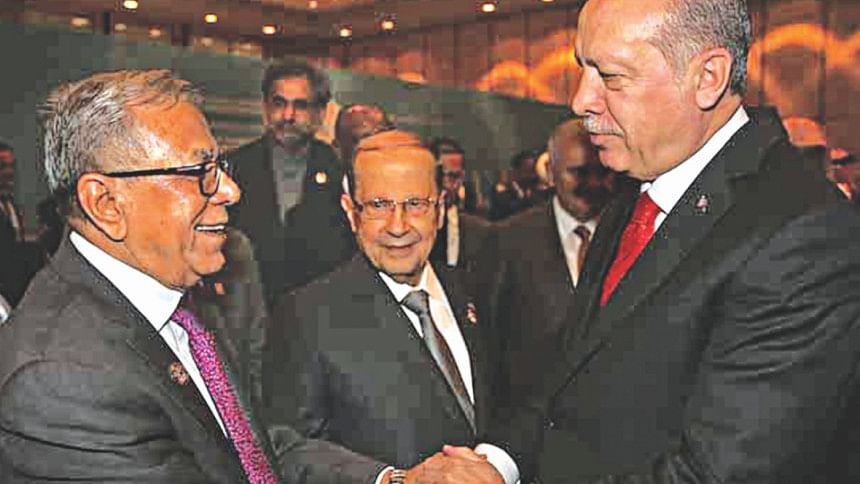 President Abdul Hamid yesterday urged all concerned to revive the Middle East peace process and adopt a constructive approach to it under a two-state solution.
Mentioning that the latest US announcement recognising Jerusalem as the Israeli capital will jeopardise efforts towards finding a durable solution to the Palestinian question, he made the call.
"The unwelcome announcement of December 6, 2017, has come as a shock and outrage to Islamic feelings. The announcement may trigger grave consequences and threats to international peace and security by inflaming the Muslim world and raising new waves of tension, hostility and violent extremism in the already volatile region of the Middle East," he said.
The president said this while addressing the 6th Extraordinary OIC Summit held at Istanbul Congress and Exhibition Centre.
This is also a blatant violation of international law and a number of UN Security Council resolutions, said Hamid, adding, "In the widely held view, the decision has drastically reduced the credibility of the US Administration as an honest mediator in the Arab-Israeli peace process."
About the role of OIC in the USA move, he said, "We believe the OIC cannot remain a bystander at this hostile action. We must engage the international community proactively, with immediate action by the Ministerial Group on Al Quds, to reach out to important state capitals as well as with activation of OIC ambassadors in New York, Geneva and Brussels, and mobilise international pressure on Israel for halting and reversing its policies and practices. We must also go ahead with practicable OIC decisions made so far on Al Quds in a focused manner."
The people of Bangladesh stand in full solidarity by their Palestinian brothers and sisters facing this travesty of fairness and justice, he said.
"Bangladesh reaffirms its unswerving position in favour of establishing the state of Palestine on the basis of pre-67 borders with East Jerusalem-
Al Quds as its capital. Such a Palestinian state must be spatially and demographically contiguous, viable in political and economic way, and stable with just and lasting peace arrangements," he added.
Hamid also called upon the OIC member states to exert continued pressure on Myanmar so that the Rohingyas can return to their ancestral home in Rakhine State immediately with safety, security and dignity from Bangladesh and elsewhere and the root cause of their problem is addressed with restoration of their citizenship and all related rights by Myanmar.