Police need to serve people better
Outgoing police chief tells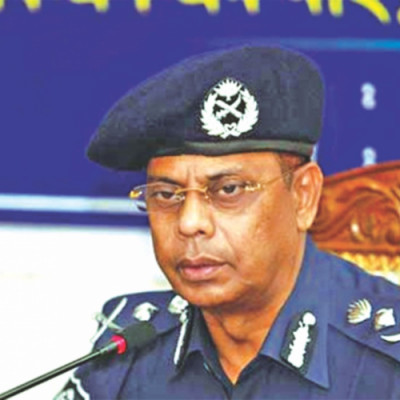 Outgoing Inspector General of Police AKM Shahidul Hoque has said police need to improve the quality of service in line with the expectations of the people.
"We are still getting many complaints at thana-level [police stations]," said the police boss in an exclusive interview to The Daily Star at his office recently. Issues like his successes and failures, initiatives taken by him and militancy came up.
He said police need to improve the situation by behaving well with service seekers, providing them service within the law, and ensuring that people were not harassed in any way.
Shahidul stressed the need for bringing changes to the attitudes of the police force members at police stations and explained how they had been trying to do that.
He said policemen at police stations have to work with limitations like shortage of manpower and transport.
"Now meritorious students, who are innovative, committed and love the country, are joining the police department. If everyone works together, there will be changes," he hoped.
Shahidul, a BCS 84th batch officer who took over the office of IGP on January 1, 2015, would retire on January 31 and Additional Inspector General Javed Patwary was to replace him.
He believed that the image of the force had improved during his tenure as the police chief. "People now have a positive view towards the police," claimed the IGP who hails from Shariatpur.
About complaints against some police members of getting involved in corruption, the IGP said in a large organisation comprised of over two lakh members, such things would happen. There could be good and bad people in a large organisation.
But, if anyone committed any crime they take departmental actions, file criminal cases and arrest the accused, he said. "We do not show any tolerance."
"We recruit those who are good, but later some may become bad," he added.
Asked how they were ensuring accountability of police personnel, the IGP said police members were accountable at every tier.
"We even punish our members for trivial crimes like misbehaving with someone," he said, adding that they impart training and motivate police members to keep the number of embarrassing incidents low.
He said police are part of the society. But many things like politics, businesses, powerful people try to influence police officials.
The outgoing IGP said he always tried to upgrade the capacity of police, develop the skills of its members and use those for the people.
He said through community police he wanted to bridge the gap between police and the people for whom police work.
"I believe in pro-people, service-oriented and democratic policing," he added.
Lauding the police for combating militancy, Shahidul said they have successfully combated militancy in the last one and a half years. Bangladesh is now a role model in the world in tackling militancy.
He said the police and detectives found the militants' dens and then launched drives, which was rare in the world. "The successes of Bangladesh police are getting international recognition," he added.
He further said Interpol now wants two police officers from Bangladesh who would share their expertise and experience on combating militancy.
Showing statistics, Shahidul said not only tackling militancy, all sorts of crimes like robberies, killings have decreased all over the country in the last three years. Besides, cases relating to recovery of narcotics, arms and explosives have increased.
Replying to a query on failing to control drug peddling and its abuse, the IGP said controlling drug abuse was a tough job. Police alone cannot do it. Police have to do it with the people.