'This ordeal will leave them scarred'
Says Priyanka about Rohingya children in Cox's Bazar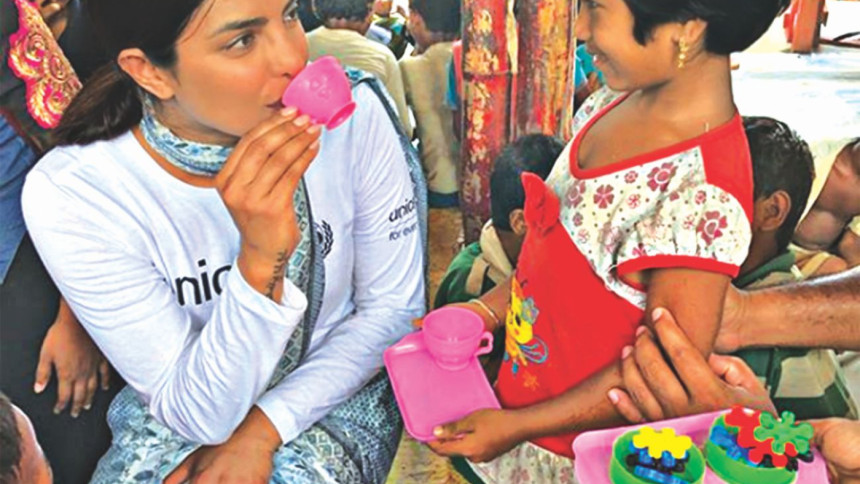 Her journey and experience thus far have already reminded everyone of the horrors of the Rohingya crisis that began late last year, as she visited the bordering region of Teknaf in Cox's Bazar where hundreds and thousands of refugees are now stationed.
"It's empty now, but a few months ago this area, known as "Sabrang," was filled with hundreds of thousands of Rohingya refugees fleeing Myanmar," Bollywood star Priyanka Chopra wrote in an Instagram post.
Around 700,000 Rohingyas fled the brutal military crackdown in Rakhine state that began in late August, causing the fastest growing refugee crisis in the world.
Almost 60 per cent of them are children with many aid agencies terming it a "children's crisis".
Chopra, also a UNICEF Goodwill Ambassador for Child Rights, visited three Rohingya refugee camps in Teknaf yesterday, a day after she arrived in the beach town of Cox's Bazar, the central point of the ongoing refugee crisis.
At around 9:30am, she visited Hariyakhali relief distribution centre where UNICEF officials briefed her regarding the centre's operations. From there, she went to the Naf River's entry point through which the refugees entered Bangladesh, our Cox's Bazar correspondent reported.
As she walked through the area, dozens of children gathered to see the famous Indian actor, who is also a singer and producer. She talked to the children and took photos with them.
The former Miss World then walked up the steps carved into the Netang hill at the entry of Teknaf. From there, she took in the view of the Naf River.
Around 11:30am, she visited a child development centre at a Rohingya camp in Leda where hundreds of locals gathered to see the star. Finally, she visited a child-friendly space at Balukhali Rohingya camp where UNICEF officials described the activities of the centre to her.
She then returned to Royal Tulip Hotel in Ukhia where she has been staying since Monday.
Sharing her experience of the visit on Instagram, Priyanka said the trip the Rohingyas had to make from Myanmar to Bangladesh was filled with hardship and tremendous danger. Many of them made their journeys on foot, walking for days through the hills, and then floating across the Naf river or the Bay of Bengal on makeshift boats.
"…Many of them injured, pregnant, elderly, etc. Their ordeal didn't end here...after entering Bangladesh; they would often have to wait for days, sleeping in the open fields with no food or water, for aid workers to reach them.
"For a lot of the Rohingya children, this ordeal will leave them scarred, physically and emotionally, for the rest of their lives. With your help, maybe these children can have a chance at a future...because right now, their future is bleak."
Priyanka is scheduled to visit Kutupalong camp today and fly to Dhaka tomorrow, ending her four-day long trip.