No hope for Kutubdia
Despite wind turbine power projects, most of Kutubdia residents left in darkness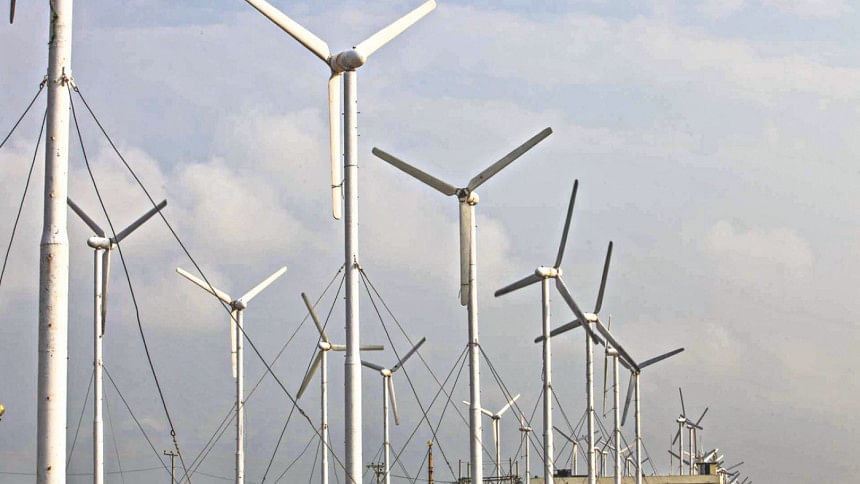 Time has changed little on Cox's Bazar's Kutubdia Island. Tides rise and fall, waves crash upon the beach while people are busy with salt production and fishing, just as they always have been. The island's limited electricity has proved a similarly unchanging reality. Despite government efforts including one windmill project completed and another underway, most of Kutubdia's 1.75 lakh residents have, for decades, been left in the dark.
"We really only have a diesel generator in Baro Ghop, the main town," says Alauddin Al Azad, chairman of Dukhin Dhurang Union. "Of the six unions on the island, five have no regular electricity supply."
According to resident Power Development Board (PDB) engineer Sajjad Siddique, the 400 kilowatt capacity generator in the town currently supplies 746 subscribers for five hours per day from 6:00pm. But even the generator is unreliable.
"Due to the power crisis many islanders are trying solar," says Baro Ghop resident Ariful Islam, who is fortunate to live close enough to access the generator supply.
But while for wealthier homes the blessing of a solar panel is a possible solution, most of Kutubdia's students remain beholden to their own age-old village schooling tradition: struggling to study of an evening by the flicker of kerosene lamplight.
"If we had electricity in our union," says Al Azad, "We could have cold storage and ice factories to support our fishing industry. Electricity would give the whole island an economic boost."
First efforts to bring electricity to Kutubdia occurred in 1980 when the diesel generator was installed. But following the 1991 cyclone even the generator was out of service for four years.
Then in 2005, under PDB supervision a wind power plant was established on the coast adjacent to Puratan Shanti Bazar in Ali Akbar Deil union, with capacity to generate 1,000 kilowatts. The Tk 15-crore pilot project was implemented by Pan Asia Power Services Ltd.
But the windmill infrastructure was battered by several natural disasters. A large part of the plant sank below the seabed due to continuous erosion. For ten years it was out of order.
Then two months ago the plant was finally repaired. It now provides electricity to 111 subscribers in the Puratan Shanti Bazar area, but according to locals, the renewed supply runs without predictability: at times electricity is available for a twelve-hour stretch, at other times there is no supply for a week.
Meanwhile, at Talebar Char two kilometres away work has commenced on a second wind power plant at a cost of Tk 8 crore. Director of the project Fazlur Rahman says Pan Asia Power Services Ltd is implementing this plant with joint financing jointly from Singapore and Bangladesh.
"The new power plant will be operational within a year," says PDB engineer Mostafizur Rahman of the distribution department in Cox's Bazar. "Pan Asia will produce the electricity; PDB is responsible for distribution."
The price of wind generated electricity has been fixed at Tk 5.5 per unit for residential connections and Tk 9.5 for commercial consumers, rates that former power and energy secretary AMM Nasiruddin who was born in Kutubdia believes are excessive.
"In developing countries wind turbine electricity is generally available at much lower cost," he says. "It needs to be unearthed why the Kutubdia prices are so high."
Nasiruddin also questions whether modern and sustainable equipment have been engaged in the project, with the necessary measures in place to protect the infrastructure from natural disasters.
Local resident Sirajul Islam Chawdhury, who lives near the construction site, says the works are proceeding at a snail's pace, free from proper government monitoring. Even the project director does not stay at the station, he alleges.
Ariful Islam, a local journalist believes large-scale corruption played a role in the construction of the first wind turbine power plant; and he's worried it's a scenario repeating itself.
Despite the commitment to new infrastructure, Kutubdia's power crisis seems as intractable as ever. If and when the second wind turbine power plant comes online, with the proposed pricing it remains to be seen just how many of the island's school-goers will be able to finally hang up their kerosene lamps, hopefully, this time, forever.