Women Participation in Workforce: PM pledges to raise it to 50pc by 2041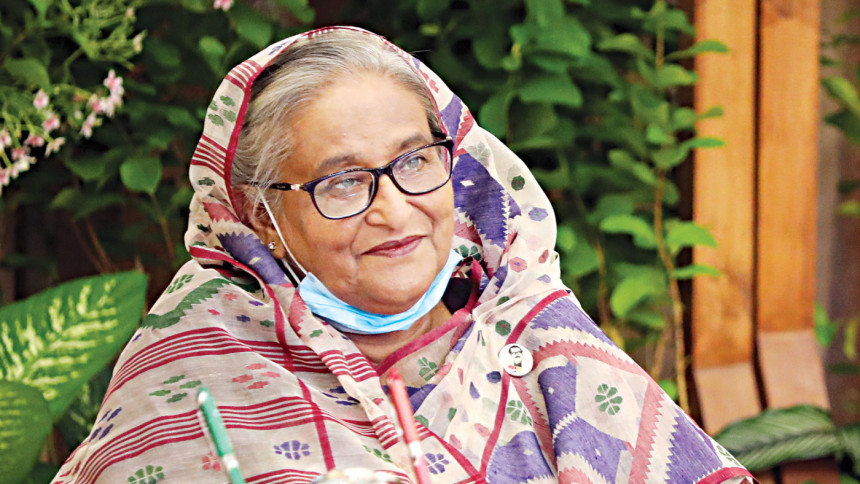 Prime Minister Sheikh Hasina yesterday pledged to increase women's participation in the workforce to 50-50 by 2041 and called for protecting their jobs in the context of Covid-19 pandemic.
She also urged the international community to renew its commitments and enhance efforts to ensure women's equality, empowerment and advancement.
"In the context of Covid-19, the jobs of female workers, including migrant workers, across the global supply chains and other major employment sectors, must be protected so that they are not further marginalised and financially excluded," she said while highlighting three issues at a high-level meeting at the United Nations headquarters in New York.
The High-Level Meeting on the 25th Anniversary of the Fourth World Conference on Women was held virtually on the sidelines of the 75th UN General Assembly.
Pointing out two other issues, Hasina said firstly, the world can benefit from every girl whose potential is realised, from every woman whose talent is tapped, and this can only be done through education.
"Secondly, empowerment comes with income and employment. Therefore, engaging women in income-generating activities should be a priority," the PM said.
She said the Covid-19 pandemic has particularly aggravated the vulnerability of women.
"During this pandemic, women are facing discrimination and increased domestic violence, and therefore, threatening to reverse our hard-earned achievements in women empowerment."
Talking about Bangladesh's tremendous development in women empowerment, Hasina said women are now becoming higher court judges, public university VCs, secretaries of the government ministries and so on. Gender budgeting, micro-finance and similar initiatives have ensured women's financial inclusion.
The premier said the government's investment in women was paying dividends with women thriving in every sector of the society.
"Today, 20 million women are engaged in agriculture, industry, and service sectors, while over 3.5 million are working in the readymade garments sector, our largest export-earning sector," she added.