'Where will we go?'
Workers left in despair after state-run jute mills closed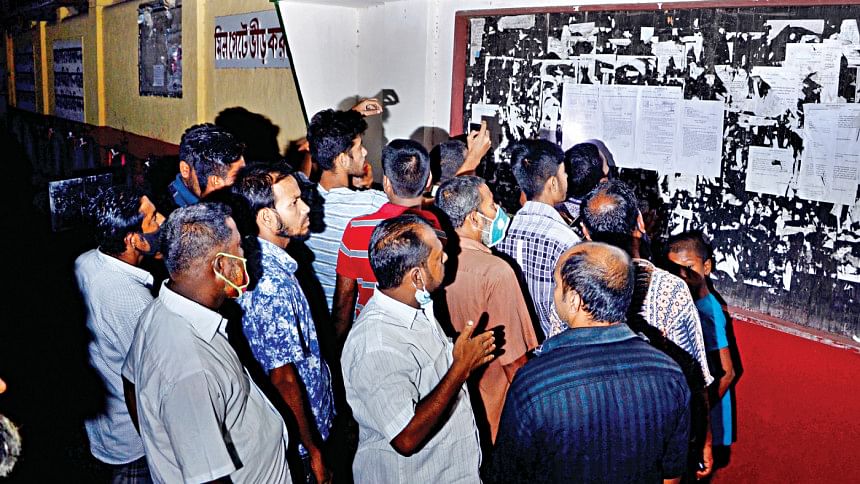 Thousands of workers of nine state-owned jute mills in the Khulna-Jashore industrial belt, passing days in mounting tension before the announcement of closure, are now sunk in gloom with the mills shut down.
There are 8,100 permanent and about 30,000 temporary workers at the nine mills -- seven in Khulna and two in Jashore -- according to the BJMC office.
"The workers do not want shutdown of the jute mills, rather they want to work more vigorously to overcome the losses of the mills," said Sahana Sarmin, president of Platinum Jute Mill Workers' Union.
"Where will we go after the mills are closed?" is a common question among the workers, she said.
Narrating her woes, Eratun Khatun, a worker of Platinum Jute Mill, said she was a temporary worker for 16 years at the same mill where her late husband Omor Ali Gazi worked.
"My husband died 11 years ago and I became a permanent worker in November 2011. I am the lone bread earner for my family. If I lose my job, how will my daughter Shiuli Akhter, a college student, continue her studies?"
Eratun has at least the consolation that she, in the near future, will receive the much-talked about golden handshake, as a permanent worker.
Temporary workers, however, some of whom have worked for decades at the mills, will receive no such payout.
Md Abdul Barek Molla, 63, has been a temporary worker at Crescent Jute Mill for around 20 years now. His wife, 60-year-old Jabeen Begum, is also a temporary worker at the same mill.
They are yet to receive their salary for the month of June as well as benefits such as Baishakhi allowance or Eid-ul-Fitr bonus.
The now laid-off workers will also not be able to stay in the mill colonies any longer. Workers said this was announced through mike in the area on Sunday.
As both Molla and Jabeen are temporary workers, they are not set to receive any benefits of the golden handshake -- meaning they have to look for work elsewhere immediately or return to their village.
But even returning to the village requires money, said Molla, and local shops are also refusing to give goods on credit to the workers anymore.
At his age, he may have to join his son in the back-breaking work of brick breaking.
Others are contemplating leaving with no work prospects or payout expected.
Eramat Ali, 57, another temporary worker, has worked at Crescent for 16 years. Despite his daughter being an honours student of economics at BL College in Khulna, Eramat is contemplating moving his family back to his village in Wazirpur upazila of Barishal in the next few days.
Some are already leaving.
This correspondent spoke to one worker of Platinum who sold his only valuable possession -- a refrigerator he had bought for Tk 22,000 a few years back. He sold it for Tk 7,500 and is using the money to move the rest of his possessions and his 7-member family back to their village in Gopalganj.
UNCERTAINTY, FEAR
The government on July 2 announced that all 25 state-owned jute mills under Bangladesh Jute Mills Corporation (BJMC) will be shut down by providing cent percent dues of some 25,000 workers.
While visiting the Khalishpur area that day, this correspondent found police personnel with water cannons deployed on BIDC road from Notunrasta Mor to Platinum Jute Mill. The entire road seemed to be under police control.
"We are worried over the police presence," said Parvez Akhter, a worker of Crescent Jute Mill. Several other workers echoed his views.
Kanai Lal Sarkar, spokesman of Khulna Metropolitan Police, told The Daily Star, "We want to ensure law and order. For this, we conduct our regular patrol in Khalishpur area."
Two labour leaders of the recently closed state-owned jute mills were detained from their Khulna homes on Monday morning.
The detainees, Waliar Rahman and Nur Islam, are temporary workers of Eastern Jute Mills and Platinum Jute Mills respectively.
Waliar is the convener of Jute Industry Protection Youth Alliance and Nur is an adviser to the Alliance.
On this, Kanai Lal told The Daily Star that they were detained for interrogation.
Janardan Dutta Nantu, coordinator of Khulna unit of Bangladesher Samajtantrik Dal, and Abdul Karim, general secretary of Khulna unit of Socialist Workers' Front, condemned the "arrest" of the two labour leaders and demanded their immediate release.
In a statement issued on Monday, they said the two leaders actively took part in the recent workers' movement demanding withdrawal of the government's decision to close 25 state-owned jute mills.
The two have been arrested in the dark of night to suppress the movement, the statement added.
On Tuesday, Waliar and Nur were produced before the magistrate court and shown as arrested in a case filed on April 4, 2019 over vandalism of a police box at Notunrasta Mor of Daulatpur during a jute mill workers' protests for due wages. They are now in judicial custody.