Wading through sewage
Part of Pagla-N'ganj road submerged for two weeks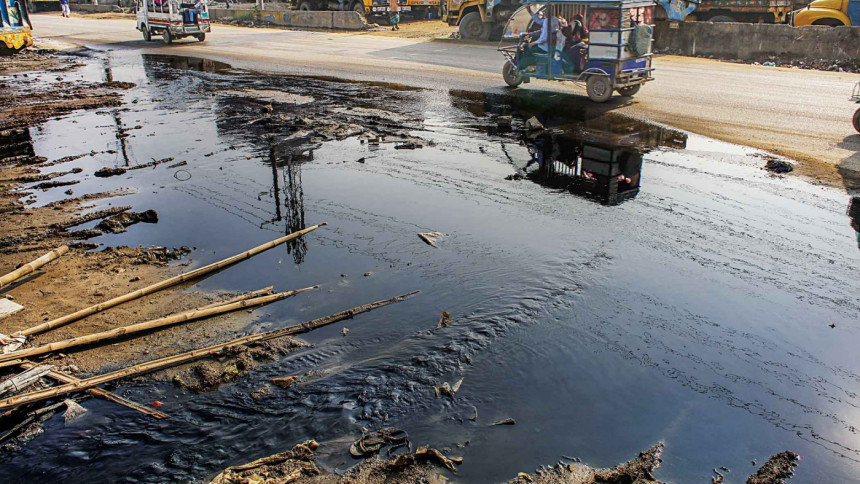 Commuters have been enduring sufferings for around two weeks as a portion of the Dhaka-Pagla-Narayanganj road is submerged in filthy water.
Officials of the Roads and Highways Department (RHD) said they knew nothing about this situation.
Locals say the cause of the waterlogging seems to be a poor sewerage system in the area.
While visiting Dhaka's Shyampur area on Tuesday, this correspondent smelt unpleasant odours coming from the waterlogged road. People were seen passing the area covering their noses and mouths with their hands.
As the part of the road has been damaged by clogged water, vehicles are finding it difficult to pass through.
"Several thousands of people walk through the road daily to go to their workplaces. We are now suffering from skin diseases as we have to walk through the filthy water, which also contains harmful industrial waste," said Parvin Akhter, a resident of the area.
Filthy water discharged from more than 50 factories located in the area falls into a roadside ditch. Eventually, the ditch gets overflowed and pollutes the road.
Seeking anonymity, an employee of a railgate level-crossing said there was a drain under the rail crossing. The factories used to discharge waste and filthy water in the drain. But the drain was causing damage to the rail line.
Furthermore, construction of the Padma bridge rail line is going on in the area. That is why the drain has been shut. So, the filthy water pollutes the road now.
Contacted, Sarwar Hossain Khan, executive engineer of Pagla Sewerage Treatment Plant of Dhaka Wasa, said they don't have "any legal jurisdiction to take any measure to solve the problem".  However, he said the Shyampur Shilpa Malik Samity has been informed to take the necessary steps for solving the problem.
Initiatives have been taken to construct a new drain in the area. But some officials of the Padma rail project said permission for the construction will be given after the completion of rail line work.
Sarwar Zaman, office secretary of Shyampur Shilpa Malik Samity, said permission will be sought from the Roads and Highways Department to clear the existing issues regarding the present sewerage system.
Contacted, Emdadul Haque, RHD's deputy-divisional engineer of Dhaka, said, "I know nothing about this issue. I will investigate it and take the necessary measures."