Transmission too much for reopening schools
Says edu minister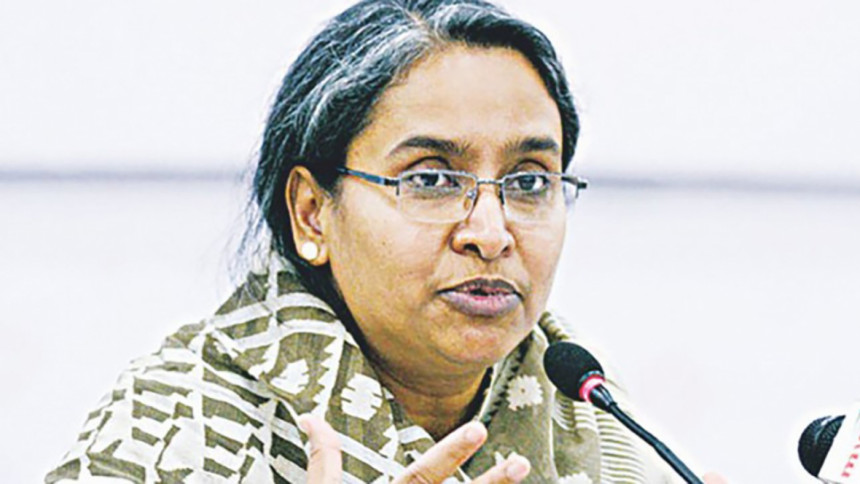 Education Minister Dipu Moni yesterday said there was no conducive atmosphere for reopening educational institutions as the Covid transmission rate was still high.
"We are not thinking about reopening the educational institutions right now as the transmission rate stands at about 13 percent. The number of deaths is also going up," she said.
Talking to journalists after inaugurating a tree plantation programme at the capital's Eden Mohila College, the minister also said the transmission rate in the country was lower than that of many other countries since the institutions have remained closed.
She also said the government did not have any intention right now to reopen schools and colleges in areas where the transmission rates are low.
On March 17 last year, the government closed all educational institutions to contain the spread of the coronavirus. It led to cancellation of exams and left academic calendars in disarray. The government extended the closure to June 30 this year.
While inaugurating another tree plantation programme at Jazira Mohammadia Alim Madrasha in Keraniganj yesterday, Dipu Moni said according to experts, an atmosphere conducive to schools and colleges will be when the transmission rates come down to five percent or below.
She said the rates would go down when everybody maintained the health safety rules properly. "The situation is worsening as all are not following the safety protocols."
She also said, "We are trying to hold the SSC and the HSC exams, maybe we will need some more days to observe the situation. We will consider some alternatives if we see that it is not possible to reopen educational institutions. We are looking at all possible alternatives."
She said she could not say now whether the examinations would be held or not."We will need to make a decision regarding the matter soon. It depends on the Covid-19 situation. But whatever the decision will be, it will be for the welfare of the students."
Dipu Moni said they noticed that students were doing well in doing their assignments.
Usually, SSC exams take place in February and HSC in April, but it did not take place this time due to the Covid 19 situation.
The government could hold the SSC exams just before closing all educational institutions on March 17 last year, but it was not possible to hold the HSC exams.
The HSC examinees were promoted based on the previous two public exams last year.