Toxic Liquor: 4 homeopathy shop owners held after 13 die in Bogura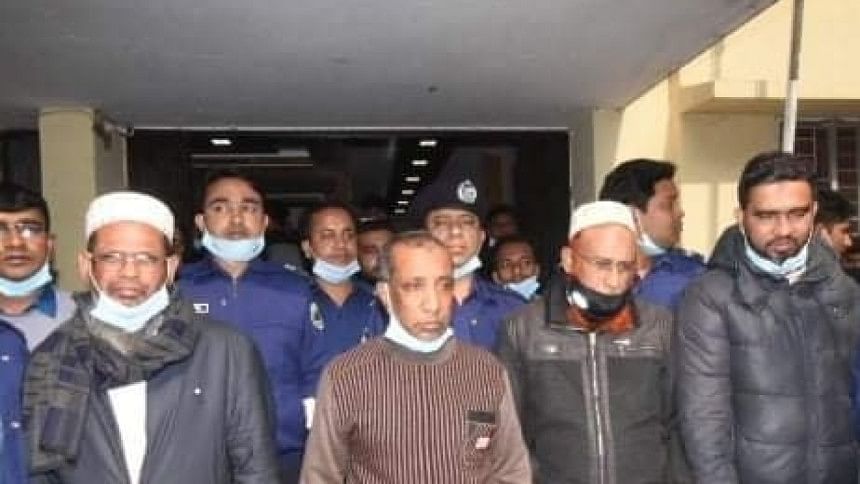 Police in Bogura yesterday arrested four homeopathy shop owners accused of selling toxic liquor that may have caused at least 13 deaths in the town since Saturday.
After talking to locals, family members of the deceased, and people who fell ill from ingesting the toxic liquor, our Bogura correspondent reported that at least 13 people died reportedly after having poisonous liquor (mainly rectified spirit mixed with methanol) in Bogura in that time.
A press release issued by the Bogura Sadar Police Station, however, said they have found that a total of eight people died in the town since last Saturday after consuming toxic liquor.
"We found that eight people in different places of the town died since last Saturday after consuming poisonous liquor collected from the homeopathy shops," said Humayan Kabir, officer-in-charge of Bogura Sadar Police Station.
Monower Hosain Ripon, 42, brother of a person who has fallen ill after drinking the toxic liquor filed the case accusing four owners of local homeopathy shops on Tuesday.
The accused are Shahinur Rahman Shahin, 42, owner of Khan Homeo Herbal, Nur Mohammad, 65, supervisor of Punam and Parul Homeo Laboratories, Nurnabi, 58, owner of Parul Homeo Lab and Nur Islam, 60, owner of Punam Homeo Lab.
Nur Islam, Nur Mohammad and Nurnabi are siblings, said police.
Police arrested Nurnabi, 58, Md Abdul Khalek, 55, owner of the Moon Homeo hall in Gallapatri area, Md Abu Juwel, 55, a staffer of Hasan Homeo and Shahidul Islam Sabur, 55, proprietor of Korotoa Homeo and Laboratories Private Limited, Bogura.
OC Humayan said the arrestees were sent to court yesterday afternoon with an appeal for seven days' remand for each and that the Bogura court granted two days' remand for each of the arrestees.
Police arrested them after conducting drives since February 1, said OC Humayan Kabir.
The arrestees admitted that they use to sell rectified spirit to the local consumers, said Ali Asraf Bhuiyan, superintendent of police, Bogura.
"We have conducted drives in three homeo laboratories [Parul, Moon and Korotoa[ today [Wednesday] and recovered some other chemical as well as rectified spirit. We are examining the chemicals," said Foisal Mahmud, additional superintendent of police (Bogura Sadar circle).
We have learnt from deceased family members, locals, and people undergoing treatment at hospital that the arrestees and the accused homeopathy labs used to mix other chemicals like methanol with the rectified spirit and sell alcohol to consumers," said the ASP.
When contacted, Md Shareful Islam Mollah, assistant director of the Bogura drug administration, said, "Khan Homeopath has licence to sell homeopathic medicine. They have no right sell rectified spirit."
On the other hand, Punam and Parul homeo labs cannot even keep rectified spirit as they did not renew their licences to import rectified spirit to manufacture homeopathic medicine since 2005 and 2015 respectively, Shareful said.
"We will cancel their licence and applications for renewal," said the assistant director.