Three held for stealing rice meant for poor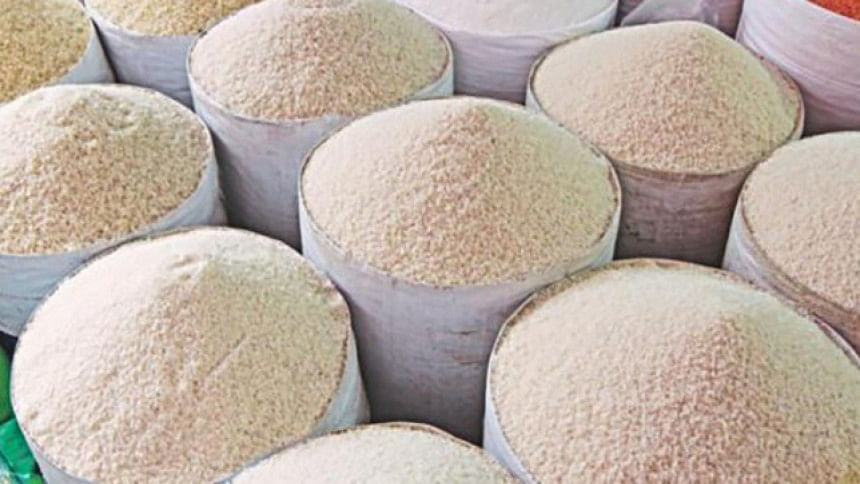 Police and local administration officials recovered over 4 tonnes of rice, provided under the government's "rice at Tk 10 per kilogram" programme meant the for poor, in three districts since Sunday.
Three people, including a government-appointed dealer to distribute the rice, were arrested in this connection.
In a wake of widespread allegations over irregularities in distributing rice meant for the destitute, law enforcers and the civil administration have been continuing drives to find whoever is involved in the irregularities.
Since March 30, over 314 tonnes of rice, five tonnes sugar, 8,048 litres of edible oil and 25 sacks of chickpeas have been recovered from the drives. Besides, 56 people were arrested in different districts in this connection, according to media reports
Our correspondents from different districts reported on the drives.
In Lalmonirhat, the local administration recovered 3 tonnes rice from a warehouse in Hatibandha upazila on Sunday night.
A motorized vehicle came near the warehouse to transport the rice around 11:00pm. Alerted, locals cordoned off the warehouse and informed the local administration, said Nozir Hosain, officer-in-charge of Hatibandha police station.
On information, a team of officials from the local administration and police, led by Samiul Amin, Hatibandha upazila nirbahi officer (UNO), rushed to the spot and recovered the rice. One person was arrested in this connection, the OC said.
In Cox's Bazar, police recovered 400 kgs of rice from Chengraghor area of Sadar upazila's PM Khali union on Sunday morning. Mohammad Noor Prokash Mahnoor, a resident of Dickpara area under the union, was appointed as the dealer to sell the rice among the poor in the union.
But he was transporting rice secretly early Sunday on a motorized rickshaw.
Locals noticed the situation and called 999. Local police rushed to the spot, arrested the dealer and seized the rice, said Masum Khan, inspector (investigation) of Cox's Bazar Model Police Station.
In Mymensingh, police seized 750 kg of rice from a shop at Bhutiarkona Bazar in Gouripur upazila's Mauha union yesterday afternoon.
On information, a team from the local administration and police raided the shop and recovered the rice around 3:00pm. The shop owner Azharul Islam was also arrested from the spot, said Md Borhan Uddin Khan, OC of Gouripur Police Station.
During interrogation, Azharul claimed that he bought the rice from different poor people of the area who received the rice by using their cards of the government's social safety net programme, he said.
But the locals alleged that a syndicate is involved in this illegal trading for long and many card holders even were not informed that they were enlisted for the rice.
Contacted Romiz Uddin Swapon, chairman of Mauha union parishad and organising secretary of Gouripur unit Awami League, denied the allegations and said the poor people in his were receiving their fair shares of the rice.
(Our Correspondents from Cox's Bazar, Mymensingh and Lalmonirhat contributed to the story.)