Thousands stranded on the Padma
Only 3 of 16 ferries running between Paturia and Daulatdia amid strong currents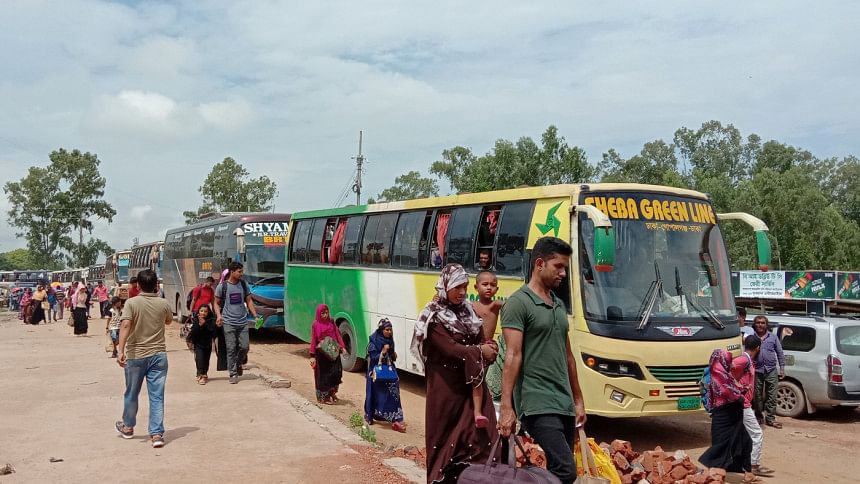 With her two children, Momtaz Begum were headed for Magura from Dhaka on Friday. By nightfall she reached Paturia Ghat, but she had to spend the night inside the bus because ferry services were heavily disrupted on Paturia-Daulatdia route thanks to strong currents in the Padma River.
Almost 24 hours later, she luckily managed to get on one of the three ferries that were able to continue operation in the choppy water. 
"How could I describe the sufferings I endured along with my children? Waiting on the street is really hard for anyone, especially for women and children," Momtaz told The Daily Star before boarding the ferry around 3:00pm yesterday.
Like her, hundreds of people travelling in more than 50 buses and 300 trucks were caught in the gridlock on the two sides of the river -- at Paturia and Daulatdia -- as the authorities were forced to reduce the number of ferries in operation. 
The situation particularly affected the Hindu people heading home for Durga Puja.
Sixteen ferries operate on Paturia-Daulatdia route, but 13 of them had to be anchored at the ghats around 11:00am yesterday, according to our Manikganj correspondent.
"Only three ferries managed to continue service as the 13 others were old and unable to sail through heavy currents," said Mohiuddin Rasel, assistant manager (business) of Bangladesh Inland Water Transport Authority (BIWTA). 
Meanwhile, Terminal 1 and Terminal 2 at Daulatdia Ghat have been washed away into the river, according to BIWTA officials.
The disruption in ferry services hit hard the truckers as well.
"We reached Paturia Ghat on Wednesday afternoon. We don't know when we could cross the river. My helper and I are starving because I have no money now to buy food," truck driver Gowhor Ali told The Daily Star on Saturday afternoon.
In addition to ferries, BIWTA also suspended launch services on Friday to avoid accidents, said Faridul Islam, deputy director (Aricha region) of BIWTA.
The Padma started swelling and having strong currents a few days ago following rains and India opening all gates at Farakka. 
To ameliorate public sufferings, Manikganj police has urged all vehicles including buses and trucks to avoid Paturia-Daulatdia route for the next few days, said a notice signed by Rifat Rahman Shamim, superintendent of police in Manikganj.
During a visit yesterday, our local correspondent witnessed a heavy gridlock at both Paturia and Daulatdia terminals. Around 50 buses and 300 trucks were stuck at the two ghats and were waiting to cross the river, causing immense sufferings to travelers.
DURGA PUJA RUSH THRU BENAPOLE PORT
Meanwhile, Benapole immigration check post is witnessing a heavy rush of travelers to and from India, marking Durga Puja.
Citing immigration officers in Benapole, our Benapole correspondent reported that some 20,000 Bangladeshis have entered India via Benapole check post in the last two days.
"Thousands of Hindu people are going to India to celebrate Durga Puja. Indians are also coming to Bangladesh," said Mohsin Khan Pathan, officer-in-charge of Benapole check point immigration police.
With people having to wait for five to six hours in long queues every day, additional manpower were deployed at the check post to tackle the rush. 
Women, children, the elderly and patients were suffering most. Outside the terminal, passengers also suffered due to lack of restroom facilities.
Meanwhile, police arrested six passport brokers in the check post area yesterday afternoon. A day earlier, 10 other brokers were arrested but they got freed at night after giving undertakings.