Thousands out of work in flood-hit areas
Over 50 lakh people affected in 33 dists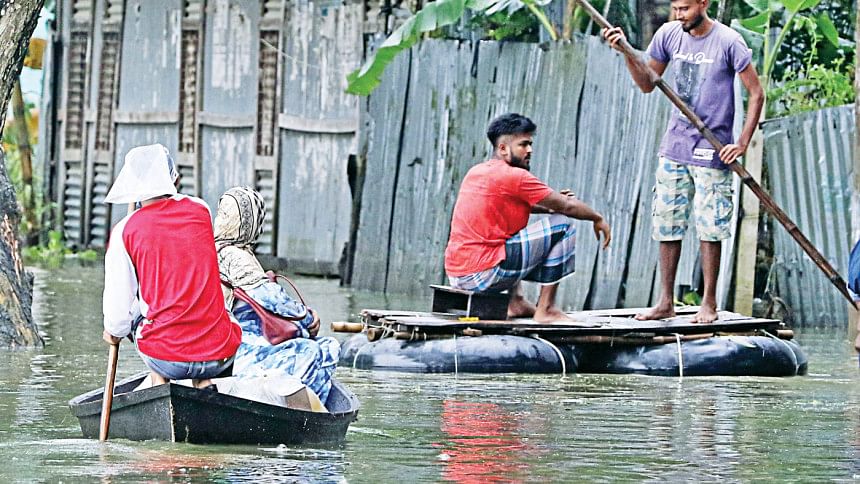 Thousands of people in flood-hit areas in the country's northern and north-eastern regions are struggling with their livelihood as they have been left unemployed for weeks.
Some 54.60 lakh people of 10.18 lakh families have been affected in 163 upazilas of 33 districts since June last week, said a report of the Department of Disaster Management yesterday.
The flood situation would take another week to improve, it said.
Apart from distributing rice, the government has allocated Tk 4.18 crore for the flood victims. Of the amount, Tk 2.75 crore has already been disbursed, the report mentioned.
Meanwhile, some fresh areas around the capital have been inundated as water levels of the Buriganga and Dhaleswari have increased.
The areas include Kashipur, Narsinghpur, Boktaboli, Gopalnagar, and Enayetnagar in Narayanganj Sadar upazila. Some areas there have gone under knee-to-waist-deep water. Many people have taken shelter at flood centres or on other high grounds.
People of the areas are facing crisis of food and drinking water as tube-wells have been submerged.
"Everything inside our house have been inundated," said Lucky Begum, of Uttar Narsinghpur area, adding that their semi-concrete building collapsed.
In the northern region, those who took shelter on roads, dykes or in flood centres have returned homes after floodwater receded.
But they are dealing with a double blow as their houses were damaged and they have become jobless.
Flood victim Jobed Ali, 55, of Baish Pukur village in Nilphamari's Dimla upazila, took a small goat to Sutibari cattle market for sale to get money for buying food on Thursday.
Like him, many others brought their cattle there for the same purpose.
A similar situation prevails in Kurigram and Lalmonirhat.
Saher Ali, 48, a labourer of Char Nayarhat in Kurigram's Chilmari upazila, along with family members stayed on an embankment for around a month as his house went under floodwater.
"We returned home last Thursday. But now I don't have any money to buy food. I don't have any job. I have sold two of my cattle to repair my house. I don't know how I will manage our livelihood," he told The Daily Star.
"We have no job. We have no earnings. So, we are struggling hard to arrange food for us," said another flood victim Nazrul Islam, 55, of Char Bagdora area in Lalmonirhat Sadar upazila.
In the north-eastern region, thousands of people lost their work due to the coronavirus outbreak in the country. The prolonged flood has intensified the crisis.
Harunur Rashid, a farmer of Chanpur village of Sunamganj's Jamalganj upazila, said, "This year, Boro production was good. We got fair prices of Boro paddy. But this flood has caused me a huge loss, and now I have no savings and no alternative work to do."
Jinnat Ali, a labourer of Paschim Pagla of Dakshin Sunamganj upazila, said his house was damaged by floodwater. He has a seven-member family.
"How could I get money to repair my house or feed them for the coming months as I have no work for months."
Sajen Miah, of Fenarbak in Jamalganj upazila, said, "As my house was flooded, I had to stay at a flood centre for weeks and couldn't find any work. I am running my family after borrowing money and I don't know how to repay the loan until next Boro season."
In its latest report, the National Disaster Response Coordination Centre said around 55 lakh people in 165 upazilas of 33 districts fell victim to the flood this year.
[Our correspondents from Narayanganj, Nilphamari, Lalmonirhat, and Sylhet contributed to this report]