Theft from DBBL ATMS: Hunt on for a Bangladeshi
He met Ukranian fraudsters at Dhaka airport, say police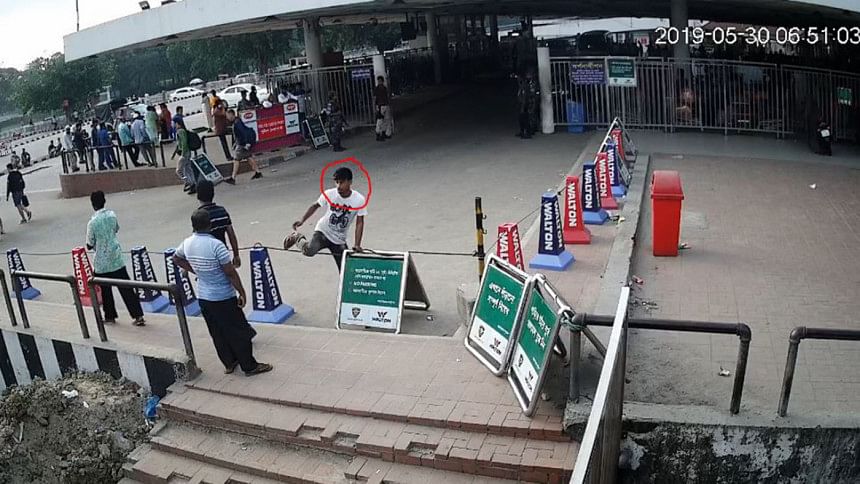 Investigators from the Detective Branch of police are now looking for a Bangladeshi man suspected to have links with the Ukrainian hackers held over the recent DBBL ATM theft.
They came to know about him after scrutinising CCTV footage in the capital's Hazrat Shahjalal International Airport area, said DB sources.
The investigators suspect that another group of criminals might have a hand in the crime, they said.
The CCTV footage shows the man, in a T-shirt and faded jeans, talking to the Ukrainian nationals who had just landed at the airport on May 30. They were seen coming out of the terminal gate together.  Later, the young man walked towards a different direction. 
DB officials suspect the man then gave the Ukrainians a car ride from the area.
Yesterday, Dhaka Metropolitan Police circulated photos and video clips of the new suspect on its website and Facebook page, requesting information on him. It requested to contact the additional deputy commissioner of Khilgaon zonal team (01713398596) in this regard.
Meanwhile, another Ukrainian suspect, Vitalii Klimchuk, 31, who allegedly escaped arrest on June 1, was still at large.
Six Ukrainian nationals were arrested on June 2 over the theft.
According to investigators, the seven suspects landed in Dhaka on May 30 and stole money from an ATM booth in middle Badda the very next day.
Later in investigation, it came out that nine ATMs of Dutch Bangla Bank Limited (DBBL) had fallen prey to the international hacker group who stole around Tk 16 lakh.
In this method, the card was inserted in the ATM and the machine's connection with the bank's server got severed, after which the suspects just took money out. The method also left no record of the transaction in the bank's server.
DB sources, quoting an IT expert, said although such kind of heist was new in Bangladesh, it had been seen in other countries where criminals used Tyupkin, a strain of malware, to empty ATMs.
Two cases were filed in connection with the ATM theft.
POLICE MET NCR CORP OFFICIALS
In another development, DMP officials held a meeting with officials and experts from NCR Corporation, the company that supplied the ATM machines, yesterday.
Shahidur Rahman Ripon, additional deputy commissioner of DMP's detective branch (East), told The Daily Star that they discussed the security issue related to the ATMs and bank server to find out the flaws in the system.
Wishing not to be named, a DB official said they were conducting a forensic test on the seized ATM identical cards. At the same time, they were trying to contact the US Federal Bureau of Investigation (FBI).
Their priority is to find the technology used in the cards and tighten the security, he said.
During the meeting, NCR officials suggested using some anti-virus software to prevent similar crimes in the future, the official added.