Supply of Covid Vaccines: Bangladesh should go for production
Experts say at webinar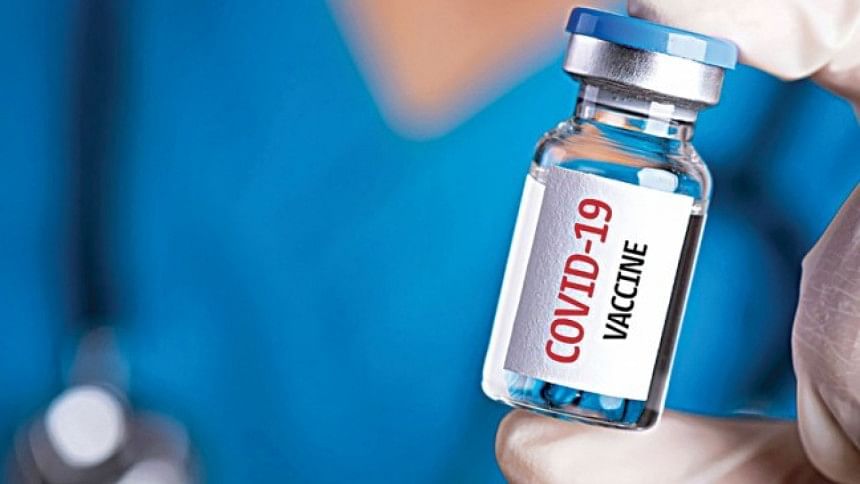 For long-term solution to Covid vaccine supply, Bangladesh needs to go for vaccine production as the crisis for the shots is worldwide, experts said at a webinar yesterday.
They also said the government must inoculate the majority of the population against the deadly virus within a short period of time and manage the vaccine properly if herd immunity is to be ensured.
At the webinar, experts stressed the need of more research on the virus locally, prioritising students and teachers for vaccination, creating awareness among people to take vaccine and proper distribution of the shots across the country.
Institute of Health Economics (IHE) of Dhaka University, Initiative for Health and Development (IHD), and Universal Research Care (URC) jointly organised the webinar titled "Covid-19 Vaccine from Different Sources in the Country: Management Issues."
Stressing on research, medical scientist Liakot Ali said it was yet to be known properly how long immunity against the virus stays after vaccination. Also what is the reaction of the vaccine among different age groups is still unclear, and therefore, research is necessary, he added.
Talking about the herd immunity, he said at least 12 crore people have to be vaccinated to ensure herd immunity. This has to be done as soon as possible, or else it won't work, he said.
Prof Sayedur Rahman, chairman of pharmacology department at Bangabandhu Sheikh Mujib Medical University (BSMMU), said, "According to science, if we want to vaccinate 12 crore people within 12 months, then we will need two crore vaccine doses monthly. We have to do this within a year, which is the effective period of the vaccine. This won't give a chance for a new variant to develop."
Giving examples of Cuba, Iran and Kazakhstan, he said they are using locally manufactured vaccines without approval of WHO as it is now an emergency. So, a country can make such a decision based on its capacity and research.
He also suggested that the government allocate more money in research and production of vaccine.
Referring to an assembly of WHO, public health adviser Prof Mohammad Abul Faiz said the country has the capacity to produce vaccine because an assembly of WHO named a few countries who are capable of producing vaccine and Bangladesh is one of them.
He said people are yet to know if they could take different vaccines in their first and second jabs or they should stick to the vaccine of one company and therefore, more research is needed.
URC representative Abdul Hamid said, "As vaccines are now coming from different sources, it is getting complicated as people don't know whether they should use the same vaccine or different ones."
"We can't depend on foreign countries for the vaccine in the long term. Besides, there are other diplomatic issues and politics which are well related to vaccines. We have to produce our own," he said.
IEDCR consultant Mustuq Husain gave emphasis on administering vaccine doses to the university students along with the frontliners who are combating Covid-19.
IHE Director Nasrin Sultana and IHD head Abu Jamul Faisel were also present.