Spread of Covid in rural India deepens crisis
Daily cases, deaths break previous records; evidence suggests epidemic moving towards eastern states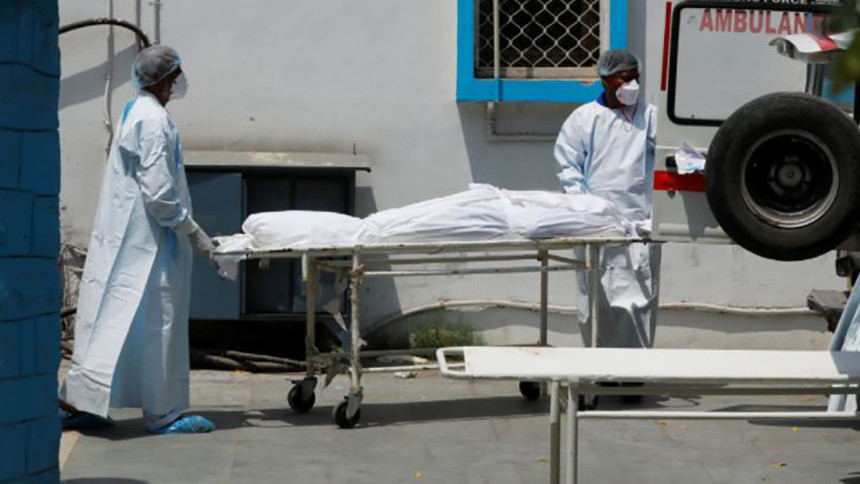 Hopes that India's deadly second wave of Covid-19 was about to peak were swept away yesterday as it posted record daily infections and deaths and as the virus spread from cities to villages across the world's second-most populous nation. 
India reported a record 412,262 new cases in the past 24 hours and a record 3,980 deaths. Covid-19 infections have now surged past 21 million, with a total death toll of 230,168, health ministry data show.
Government modelling had forecast a peak in second wave infections by Wednesday.
"This temporarily halts speculations of a peak," Rijo M John, a professor at the Indian Institute of Management in the southern state of Kerala, said on Twitter.
Medical experts say India's actual figures could be five to 10 times the official tallies.
Covid-19 crisis has been most acute in the capital, New Delhi, among other cities, but in rural areas - home to nearly 70% of India's 1.3 billion people - limited public healthcare is posing more challenges.
"The situation has become dangerous in villages," said Suresh Kumar, a field coordinator with Manav Sansadhan Evam Mahila Vikas Sansthan, a human rights charity.
In some villages where the charity works in the northern state of Uttar Pradesh - home to about 200 million people - "there are deaths in almost every second house", he said.
"People are scared and huddled in their homes with fever and cough. The symptoms are all of Covid-19, but with no information available many think it is seasonal flu."
India's Goa state, a hugely popular tourist destination on the western coast, has the highest rate of Covid-19 infections in the country, with up to one in every two people testing positive in recent weeks, government officials said.
Evidence suggests the pandemic is moving eastward of India and a rise has been noticed in the number of daily cases in five eastern states, including West Bengal and Assam, along with rising mortality, according to the Indian Health Ministry.
This was stated at a high-level meeting on Wednesday chaired by Indian Health Secretary Rajesh Bhushan. States officials from Assam, West Bengal, Odisha, Bihar and Jharkhand attended the meeting, reported our New Delhi correspondent.
Several states have imposed various levels of social restrictions to try and stem infections, but the federal government has refused to impose a national lockdown.
India's southern state of Kerala, which has 376,004 active cases, announced it will impose nine days of curbs on movement from Saturday.
LIFE AND DEATH DECISIONS
In the capital Delhi, fewer than 20 of more than 5,000 Covid-19 intensive care beds are free at any one time.
Student doctors like Rohan Aggarwal, 26, recruited to fight the second wave, are being forced to make life and death decisions.
His Holy Family Hospital in Delhi normally has a capacity for 275 adults, but is currently caring for 385. "Who to be saved, who not to be saved should be decided by God," Aggarwal told Reuters during a grim overnight shift.
"We are not made for that – we are just humans. But at this point in time, we are being made to do this."
Experts have said vast vaccination can be a solution to get out of this crisis. 
While India is the world's biggest vaccine maker, it is struggling to produce enough product for the surge in infections. Its two current vaccine producers will take two months or more to boost total monthly output from the current 70 million to 80 million doses.
'POORER HOUSEHOLDS'
Around 230 million Indians fell into poverty due to the pandemic last year with young people and women the hardest hit, and the current second wave threatens to make matters even worse, a new study has said.
India's stringent months-long lockdown from last March put around 100 million people out of work, the report by the Bangalore-based Azim Premji University said, with around 15 percent unable to find jobs even by the end of the year.
Women were especially worse-off, with a staggering 47 percent of female workers unable to secure employment even after virus restrictions were lifted, according to the study published on Wednesday.
The report, which defined people in poverty as those living on less than 375 rupees ($5) per day, said: "Though incomes fell across the board, the pandemic has taken a far heavier toll on poorer households."