Spelling Bee back again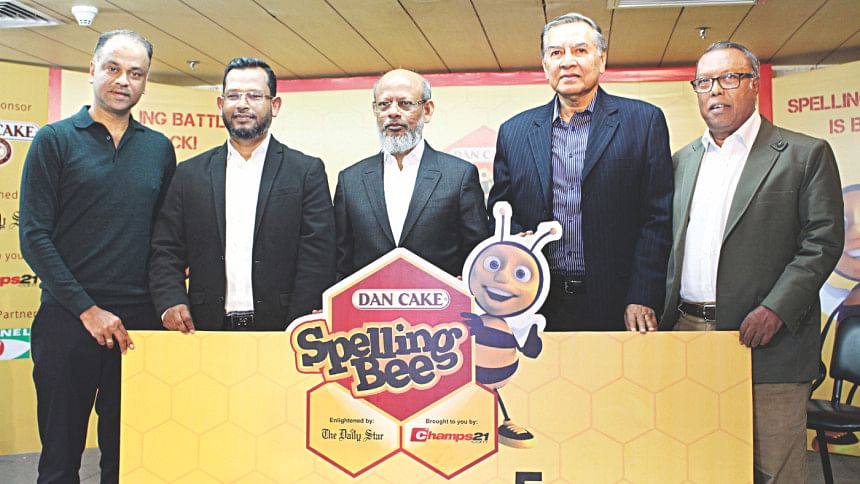 Much acclaimed television show for school-goers -- Spelling Bee -- is back once again.
The fifth season of the English spelling competition, in which students from Class 6-10 from both Bangla and English medium schools can participate, was launched at The Daily Star Centre yesterday afternoon.
The competition will take place all over the country.
This year, the competition is titled -- "Dan Cake Spelling Bee, Enlightened by The Daily Star, Brought to you by Champs21.com". The title sponsor for this year's Spelling Bee is Dan Cake, reads a press release.
Like every year, the competition will be organised by Champs21.com, with the support of The Daily Star and Telecast partner Channel i.
Mahfuz Anam, editor and the publisher of The Daily Star, Shykh Seraj, founder director and head of news of Channel i, Nazim Uddin Ahmed, chairman of Pandughar Group, Firoz Ahmed, COO of Dan Foods Ltd, and Russell T Ahmed, CEO of Champs21.com, among others, were present at the launching ceremony.
Mahfuz Anam said that the Spelling Bee is not just a spelling competition; it is a source of family entertainment as well. Through this programme, students not only learn how to spell, they acquire various skills and flourish their spirits through the best opportunity of learning from mistakes. 
"In order to assist the next generation, I welcome the teachers to help the students prepare for future possibilities," he added.
Shykh Seraj hoped this season will be more fruitful than the previous ones. 
"A new generation, full of new skill sets, will be created before our very eyes. The experience obtained from the Spelling Bee will not only help the students in the country, but also help them shine worldwide," he said.
Firoz Ahmed said the Spelling Bee is a platform to groom our students as future leaders.
He said Dan Cake is extremely proud to be a partner of such an amazing initiative.
Russell T Ahmed invited everyone to join the new season. "Through the Spelling Bee, the participants can enhance their leadership skills. I am proud of our previous spellers who have shined both academically and professionally," he said.
The competition will consist of three rounds this year -- an online round, a divisional round and a television round.
During the online round, students will have to register through www.champs21.com or download Spell Champs app from Google Playstore to start. The online round starts from 10th February and will continue till 15th March.
Top spellers from the online round will be selected for the divisional round.
From the divisional round, 96 top spellers will be selected to move on to the television round.
Along with the champion's trophy, the winner of the competition will receive Tk five lakhs to fund their education and the opportunity to visit Washington DC with one parent.
In the last seasons, about 12 lakh students participated from over three thousand schools.